Since the release of Ansel Adam's and Nancy Newhall's, "This is the American Earth" in 1960, coffee-table books containing beautiful photography have become more commonly used to serve a new purpose as a decorative room accessory. While several copies of this Sierra Club publication are still available for sale, the first printing of the hard cover first edition is now considered to have reached, rare book status.
Adam's works in fine photography extend far further than coffee-table books of the '60's. His first book "Taos Pueblo" was published in 1930 by Grabhorn Press and contained 12 black-and-white photographs. It was created in collaboration with writer Mary Hunter Austin during a visit to Santa Fe, New Mexico, during which they received permission by the Taos Indians to photograph their surrounding architecture and inhabitants. There were 108 copies produced (100 signed by Adams and Austin copies, plus eight artist's copies). An extremely scarce book demanding over $50,000 in today's market.  A 1977 reproduction of the original by the New York Graphic Society, using gravure prints rather than original photographs, produced in a limited edition of 950 copies, signed by Adams, has been selling for over $1,000.

His second book of photographs was published in 1938 with a limited edition of only 500 copies, signed by Adams. "Sierra Nevada: The John Muir Trail" was published by The Archetype Press and ranges in price from $5,000 to $10,000. The book provided a launching pad for Adams to establish his career as the master photographer of the American West.  Illustrated with 50 tipped-in  prints of photographs, the book influenced President Roosevelt to embrace the idea of the Kings Canyon National Park, which was created two years later in 1940. Adam's striking images set a new standard for photography books that capture an aspect of emotional interpretation.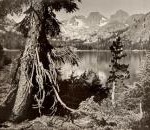 Adam's first published portfolio containing many iconic images, including the majestic view of Half Dome, Kearsarge Pinnacles, and pictures of El Capitan and Sentinel Rock, were printed in 1927 by Jean Chambers Moore as part of the "Parmelian Prints of the High Sierras." This landmark work in 20th century photography contains 18 photographs of Yosemite and the Sierras printed on parchment, measuring 5 x 7 inches and the folio sheets measuring 10 x 12 inches. It also contains an introductory letterpress section signed by Adams in manuscript on the dedication leaf, the work of Edwin and Robert Grabhorn. The only copy of this work that we came across did sell for $110,000. In 1926 when Albert Blender arranged to publish Adam's print in a portfolio, he sold 56 within hours.  In total 100 sets of the prints were completed by Adams, but some were destroyed in a warehouse fire, and a total of only approximately 75 portfolios were offered for sale.
Ansel Adams published his first photographic prints in 1921 and worked to develop a realistic quality in his images. He printed his photographs on Kodak Vitava Athena Grade T Parchment, a cream-colored, gelatin silver paper that is translucent when held up to light. The resulting print has a fine grade of tonality, and a rather ethereal quality.
Our Rare Book Sale Monitor (RBSM) is consistently showing the category of Art/Photography/Architecture as the best overall performer during the periods recorded.  Even though we do track photography books in conjunction with the broader category that includes all forms of art, there has not been a reason to separate photography into its own grouping so far.  Since the purpose of the tool is to record the trend and since we did not record a significant variation between sales trends in art books as compared to those in photography, there is no distinction necessary at this point. A masterpiece does not make the distinction between art forms whether drawn, painted, crafted or photographed. There is certainly no doubt in the art world that Ansel Adams created masterpieces in the photographic depiction of the West.