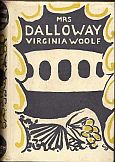 At the very forefront of nineteenth century writings on feminism and rebellion against societal norms for women was the writer and journalist, Virginia Woolf. Woolf lived during a time of strict and traditional standards for women and the roles which they were expected to play, yet through her writings she expressed an alternative and freeing way of life, as experienced by her brave and determined literary heroines. The Hogarth Press, the hub of Modernist movement at the time, published most of her rare books.
Adeline Virginia Stephen was born in 1882 to a prominent and well respected family. Though she was encouraged to explore her great love of writing and literature, Woolf's life was fraught with much sadness and loss from an early age. Her mother's death when Woolf was a young child severely altered her life, and led to her first mental breakdown. From there, Woolf's life only continued in a turbulent direction and saw the death of also her father, and rape by her older half brother, George.
As an adult, like Austen and Chopin, Woolf boldly questioned and exposed the narrow minded and restrictive points of view which society held towards women and the lives which they were expected to live. For these reasons, she is today considered as one of the most revolutionary Modernistic writers of her time. While she was, for the most part, happily married to her husband, Leonard Woolf, Woolf often wrote about unhappy marriages and women's quest towards freedom in love and life. Frequently, Woolf's writings strayed from depicting heterosexual marriages, and would often portray homosexuality as an exhilarating and freeing alternative. Such works include short stories such as Lappin and Lapinova and Moments of Being–Slater's Pins Have no Points. Other works illustrating independent women include Mrs. Dalloway (1925), and A Room of One's Own (1929), as well as various others.
While provocatively bringing societal issues to the attention of her readers through her works, Woolf also skillfully interwove many aspects of symbolism into her writing, which further illustrated her opinion on a strangling and unfair system of a gender segregated society. In Lappin and Lapinova, for instance, the largely mismatched marriage of the staid and pragmatic Ernest and the vivacious and imaginative Rosalind is explored. Symbols such as the monotonous color coded dinner affair held at her in-laws home suggest that Rosalind was bored and unhappy in her routine marital situation. Moreover, the fact that Rosalind desperately escaped her unhappiness by imagining she and Ernest as carefree and happy rabbits living in a euphoric world insinuates the point that Ernest actively engaged his unhappy wife in sexual interactions; an unraveling thread which may have been the only element holding together their unhappy and loveless marriage.
In Moments of Being–Slater's Pins Have no Points, the largely independent and unconventional Julia Craye is introduced. Unlike most women of the time, Ms. Craye supports herself in a house alone by teaching piano lessons, because she has willingly not married. This fact of Craye's life in itself would have been shocking to the average reader during the time that the story was published, as women were largely expected to live with a male relative if they were so unfortunate as to remain unmarried. Instead, Craye intentionally lives a solitary life that she loves and revels in. She is delighted that she is at leisure to do whatever she likes whenever she likes. As the story illustrates,
"The very next day, perhaps, she would get up at six, put on her cloak, and walk all the way from Kensington to the river, She was so thankful that she had not sacrificed her right to go and look at things when they are at their best–before people are up, that is to say she could have breakfast in bed if she liked. She had not sacrificed her independence."
Further shocking in Craye's story is the fact that she is a lesbian. This is made known to the reader during the climax of the story when Craye chooses to exhibit her feelings towards her much surprised but receptive pupil, Fanny. Such material and such exposure of such an alternative lifestyle would have been largely looked down upon during Woolf's time, but she stubbornly and bravely chose to include it as one of the main events in her story, further proving her point that freedom in love should and must be given.
Additionally, Woolf included symbols into her work which jarringly enhanced her message. A lovely rose pinned to Fanny's garment represents femininity, while a straight pin which holds the flower in place on the garment symbolizes society's firm grasp on feminine identity and expected female behavior. When the flower falls away from Fanny's garment, Julia Craye remarks that Slater's pins do not have points. This statement represents the mindset that adhering to society and its restricting expectations is literally pointless. As the flower and the pin fall away, so do the inhibitions and guarded actions of the two women, who for too long had restrained themselves in a chokehold of norms and limitations. Woolf hoped that by reading the tale, her readers would come to adopt and accept the fact that in order to experience lasting joy in life, one must be bold and brave enough to walk in his or her own autonomous direction and leave what is expected behind them.
Throughout her unhappy and anguished life, Woolf also published The Voyage Out (1915), Night and Day (1919), Jakob's Room (1922) which was the first novel to appear under The Hogarth Press imprint with 1200 copies, To the Lighthouse (1927), The Waves (1931), and many others. Her most famous works are considered to be Mrs. Dalloway, To the Lighthouse, and Orlando (1928), as well as the essay A Room of One's Own (1929). Woolf enjoyed membership in the prestigious Bloomsbury Group as well as an elevated spot of respect in the literary world, despite her unorthodox themes. Woolf's literary career was tragically cut short, however, when she committed suicide on March 28, 1941 at the age of 59.
Though her life and her literary achievements were too soon put at an end, Woolf is today considered to be one of the first Modernistic writers to pave the way towards independent thought and spontaneous and unmandated living. Her works have indisputably made their way into the respected rare book circle as tools, treasures and sources of inspiration for the joy in life that we are all searching for.