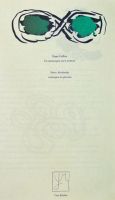 The art and craft of the book is as broad in content as the human mind over the course of centuries itself. Throughout history, the production of the book has spanned from manuscripts to avant-garde, from traditional forms of design, art techniques and hand-manufacture to the latest technologies, imaging sciences, and automated printing machines. Whether through forces of an art movement or a set of ideas sharing similarity of style or way of thinking, books exhibit Impressionism, Post-Impressionism, Symbolism, Fauvism, Expressionism, Cubism, Abstraction, Dada, Surrealism, Abstract Expressionism, Pop, and Minimalism types of art.
It has been said that the artist's book world is like no other. Canadian Tim Guest of Art Metropole, Toronto, once wrote "…one could describe artist's books as books produced by artists, books that are different from all other artistic publications because they do not comply with or belong to the fields of literature, art criticism or illustration. The overriding principle of artists' books is that instead of being about art, they are works of art in themselves." Luigi Serafini, author of "Codex Seraphinianus"  which is considered as the weirdest book ever produced, proudly stated in a recent interview for Wired Italy, "The artist's goal should be to discover remote and unexplored territories ….the real challenge is to offer something completely new and different, like I did with the Codex."
Unlike the tremendously successful Codex Seraphinianus however, that had originally been published by Franco Maria Ricci of Italy in a sizable edition of 5000 and has since been frequently re-printed by multiple publishers in multiple formats and world locations, artist's books are usually produced in a truly limited edition to appeal as collector's items. Additional elements may include large-sized format, hand coloring and printing, fine binding, and use of rare, and in many cases, hand-made materials.
Unlike other artistic expressions, the artist's book world is very collaborative in nature. It has not and will never be comprised or crowded by specialists of any particular sort. Artists partaking are often themselves crafters, publishers, designers, curators, writers, poets, collectors, private presses, booksellers, and fine art publishers.
The artist's book genre or livre d'artiste genre from the French origination is the result of the upper-middle class expansion that took place towards the end of the 19th century in Europe. The class growth contributed to the formation of a new market for deluxe editions of finely crafted books, that combined the talents of well-known or up-and-coming artists, poets and writers. The first livre d'artiste contributions were published by two Parisian art dealers, Ambroise Vollard and Daniel-Henry Kahnweiler, in the 1890s-1900s.
Unlike the J.K. Rowling success story, book artisans of all kinds are far less likely to strike it rich during their lifetime. It is estimated that 1% of artists are able to make a living from their work as book artisans. Book collectors are often turned away by some of the high pricing that today's fine printing presses demand. Hand-made books as a work of art are very labor-intensive to produce, and it takes a lot of energy to bring public recognition to the craftsmanship of the artists that create them. Often times the work goes initially unnoticed, despite breaking into unexplored territories with something new and different that may very well someday get appreciated for its beauty, fragility and preciousness by a future generation.
Without the humanizing influence of art, the artist's book is bare, intangible work without poetry; creative work without human spirit. It is not a misconception that artist's books, livre d'artiste, deluxe editions, and fine book publishing exist mostly for those with the economic means to buy them.  They are usually priced at a premium. It is for this reason that that special feeling is a bit more satisfying when the book of the artist you love and just bought at a bargain is of the livre d'artiste genre.