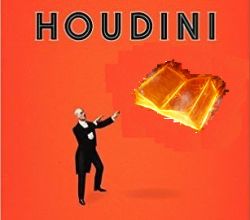 Within a short time, the concentration of high spots from the genre of magic and the supernatural has moved into private hands and institutional collections. The market irrupted, beginning in 1991, when illusionist David Copperfield bought the Mulholland Library of Conjuring & the Allied Arts (containing the world's largest collection of Houdini memorabilia), for $2.2 million. Copperfield's agents, whom include librarians and archivists, continue to acquire books on magic and add to the library by actively scouring magic auctions, private estates and shops.
During this time, recent college graduate, Bill Kalush, a specialist in sleight-of-hands with cards, began seriously collecting magic books too. As his collectibles began to multiply, he founded a nonprofit library in 2003, the Conjuring Arts Research Center, located a few blocks from the Empire State Building. The library consists of 15,000 volumes and serves members of the public and magicians seeking out obscure magic works and tricks of the trade.
Not to be ignored, Harry Houdini's library at the Library of Congress is one of the strongest collections of 19th and 20th century publications on spiritualism. In 1927, through Houdini's bequest, the Library received 3,988 volumes from his own private collection.
These collections make other magicians both envious and grateful. They are the richest collections of magic and supernatural content ever accumulated, and they have, in a way, cornered the market. Smaller collectors of books on magic are faced with very limited availability and high pricing on most of the books on magic that are available for sale. It is almost guaranteed that while browsing at books on display at book fairs, you may also overhear someone ask the dealer the question "anything on magic?"
Houdini, as a mystical entertainer was interested in spiritualism; however, his focus was on mysticism. Later on, after being afflicted with life's grief, he was brought to a realization that his act bordered on being criminal. His last book A Magician among the Spirits, New York: Harper & Brothers, 1924, chronicles such investigations into spiritualism, and his debunking of many prominent practitioners. It includes a chapter on Sir Arthur Conan Doyle, who had long been his friend before the two split irreconcilably over Conan Doyle's belief in spiritualism.
Perhaps the most famous card book ever published is, The Expert at the Card Table, by S. W. Erdnase, pseudonym of a mysterious cardsharp and business swindler who never published anything else. Considered a fundamental text for establishing card mastery, it is arguably the most studied book within the genre of magic, causing it to remain in print well over a century after its original publication. Speculation on the true identity of Erdnase, does not exclude Houdini himself, who was also known as the "King of Cards".
The experts on the Expert at the Card Table, are at Everything Erdnase, with an online exhibition and bibliographical information on a variety of the book's editions. Through their "First Edition Project", they have so far recorded the location and ownership of 39 first edition copies. According to Jason England, curator of Everything Erdnase, there are about 80 hardcover first editions in existence today, with the green cloth covers as originally published by McKinley. The more common Drake paperbacks were issued in 1905 with a bright yellow cover with the King of Hearts image. Some years later, Drake began printing copies in a bluish-green paper. Some of these had a full-color King of Hearts illustration and some had a King of Hearts with the red ink "missing" for some reason. Most of these were not dated on the title page, so determining exactly when they were printed is difficult at best.
Whether used in their trade as reference material or purchased as an addition to a collection of original editions, magicians purchasing books are historically leading the trend when it comes to collecting books on magic. No other trade comes even close to the ratio of book collectors within a profession as the one scored by magicians. Houdini's magic lives on!