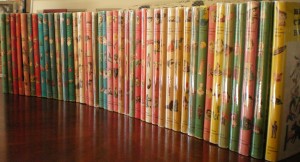 Between 1957 and 1961, Nelson Doubleday publishers, contributed the most amazing children's books encapsulating the classical stories of the time with contributions by some of the better known illustrators and artists of our times. This was a very important series as it contained much original material from 7 Newberry Winners and illustrations from 8 Caldecott Winners. It is a series of Rare Books.
There are 42 volumes to the original set that include many notable children's writers and illustrators. Volume 1 with the story of Abraham Lincoln, Nathaniel Hawthorne's  story of the Winged Horse: Pegasus in Volume 21, the Christmas in the Big Woods by Laura Ingalls Wilder in Volume 28 and the Hiawatha by Henry Wadsworth Longfellow. Illustrators also include some early works by Richard Scarry, Johnny Gruelle, Andy Warhol, Leonard Weisgard, Feodor Rojankovsky, Ezra Jack Keats, Paul Galdone, Adrienne Adams, Peter Spier, Barbara Cooney, Ruth Ives, Don Freeman, Garth Williams, Leonard Kessler and Maurice Sendak.
Several of the books are now considered collector's items and have become hard to find, especially if quality is desirable. They are indeed rare books. Most of the volumes available are either missing their attractive dust jacket or have some other significant limitation such as stains, tears or writing, so the drive to complete a full set has now become a popular undertaking for a great deal of collectors, who have exhausted the easy picks from the market.
A quick search on-line reveals that some of the most desirable volumes, particularly the ones containing the works of Andy Warhol, Sendak or Richard Scary have been posted asking over a hundred dollars. I have still to come across a full set for sale that is in relatively good condition, without dust jackets missing, and in its original state. Yes original. While the majority of collectors concentrated their effort on the first two they have not paid much attention to the latter, simply because it is not well identified or described anywhere. After some extensive research, it has now been established that there are clear markings to identify an original from a reprint. Here they are listed below:
Any Volume numbered with an "A" suffix is a later edition.
Any book with a number and letter coding on either page 151 or
page 111 are later printings.
Any book without "Printed in the United States of America" on the fep and/or rfep is a later state.
Any dust jacket with a 4 number code on the rear end flap (bottom center) is a later edition dust jacket.
If you are collecting Warhol, Sendak, or the many writers and illustrators in the series, you would want a first printing; on almost any book a reprint is less desirable.  It would be disappointing to purchase a first and find out it is a reprint, especially with a treasured series such as this.