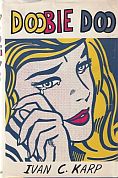 Contemporary art can be alluring for investors. Prices are soaring and the traditional cheaper alternative of investing in art works that are printed, bound, and widely offered in the form of a limited edition book, are not what they used to be. Such editions printed on better quality paper and featuring fine illustrations or even original prints, are published and sold by print galleries and fine press publishers and can be quite costly. Even when such artwork does soar in value rapidly, owners usually have to wait and let the book value gradually appreciate in order to cover the steep original cost. The reality is that while there are many instances when prices rise in a hurry,  there are also many more that can fall just as fast.
A safer bet is to seek works by already famous contemporary artists that were featured in some type of project that is undervalued, preferably published during the artist's peak in popularity. This is by no means an easy undertaking, but it is worth the trouble and excitement. Skip over any artist monograph, catalogue raisonné, or important exhibition work that falls into another grouping of collectibles that is usually closely followed by art collectors and fairly priced. I like to look for contemporary artist decorations and illustrations that were added inside the pages of a novel or the dust jacket of a modern first edition.
I was recently fascinated by the Roy Lichtenstein (1923-97) retrospective exhibit at the London's Tate Modern. The 13-room exhibit covers the artist's abstract expressionism, narrative art and pop art that takes center stage in the large gallery room titled "War and Romance."  Pop art is undoubtedly the highlight in the career of this great 20th-century pop artist, with my favorite works "Whaam!" and the sexy "Drowning Girl," both painted in 1963. It was during this period that Lichtenstein's career focused on narration and sex with plenty of artistic 'pregnant moments' –an image of an instant from which one can imagine the whole story.
And so did my rare book scouting begin. I figured a publication around 1963 containing some colorful Roy Lichtenstein art that captured the essence of pop, narrative art, at a reasonable price is what I should be in the market for. It did not take long to realize that the options were quite limiting. There is a huge shortage in publications that contain Lichtenstein illustrations and are not catalogues or art books. The best book from the 60's I was able to find for less than €100, was a first edition by Ivan C. Karp, "Doobie Doo; A Novel"; Garden City, NY, Doubleday, 1965. The only Lichtenstein illustrations were on the dust-jacket  and the pictorial boards with reproductions of a color painting by Roy Lichtenstein of a woman crying (from his "Brad" series).  The Andy Warhol dust-jacket design on the back was an extra bonus.
This was definitely the type of art that I was looking for.  Early to mid-1960s publication, of Lichtenstein's scarce, narrative, pop art that is still affordable. The importance of the publication is also quite attractive given that this is Karp's first novel about love between Pop artists.  He was a New York art dealer and author, working at the Leo Castelli Gallery who helped popularize and market the initial generation of Pop artists, including Andy Warhol, Jasper Johns, Roy Lichtenstein, James Rosenquist and Robert Rauschenberg. The book is also a first edition in very good condition without any loss to the "artsy jacket."
Artists such as Andy Warhol, Jasper Johns, and Lichtenstein, who helped shape the debate on whether painting stemmed from expressionistic gesture or mechanical production, are extremely collectible by bibliophiles worldwide. Some of the Warhol's early commercial art for example, was first published in the Best in Children's series. The majority of the first printings of these books are selling for less than 10 or 15 Euro while the few that contain some early drawings by Warhol are selling between 50 and 100 Euro. Not bad for a children's assortment that was selling for $2.00 in the beginning of the 1960's and often confused to be just another book club edition.