Collectors are increasingly pouring large sums of cash into ancient religious texts. The Rare Book Sale Monitor recorded "Religion & Theology", our third most popular gender, to be slightly trailing "Modern First Editions" in overall price increase during the last 15 months. For a synopsis of the religious rare book market please read our earlier post Rare Religious Books.
Collectors who buy and sell Bibles have been focusing on rare printings that were printed prior to the 1700's in Europe or prior to the 1800's in North America. "The poor man's Bible" was first printed in Basel, by Johannes Froben, on the 27 of June 1491.  Its nickname came from the small format – median octavo (6 3/16 x 4 5/16 inches; 157×110 mm). Despite the relatively diminutive size, the Bible exhibits the best craftsmanship of its time. Triple-filleted boards and foliate borders; floral ornaments; deer and griffin stamps; manuscript three-line capitals in red and blue; contemporary blind-tooled pigskin over reverse beveled wooden boards; brass catches and clasp fasteners; blue stained edges and so forth. It was printed in a new architectural design "rotunda," that allowed Froben to produce printed pages of great clarity and neatness despite its small size.
Biblia integra: summata: distincta: sup(er) emen(n) data vtriusq(ue) testame(n)ti..  is believed to be the first book, or one of the first books, issued by Johann Froben. Besides being the first pocket-sized octavo it is also the earliest Latin Bible to bear a woodcut frontispiece. Based on an original work by Albrecht Dürer, it is the only illustration of the book and it is positioned on the page facing the opening of St. Jerome's introductory letter to St. Paulinus, Bishop of Antioch. In the drawing, the translator of the Vulgate turns from his work to pull a thorn from the paw of his fabled companion, the lion. On his desk are the texts of his Prologue to the Pentateuch and Latin and Greek (Septuagint) versions of Genesis 1:1.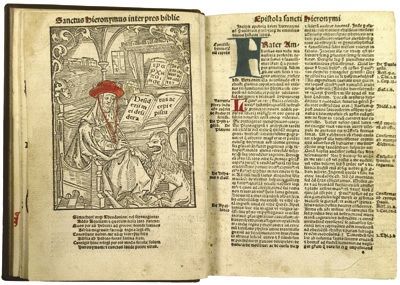 Prior to the publication of Froben's 1491 Biblia integra, Bibles were primarily printed for ecclesiastical use in large folio formats with excessive decorations and consisting of the most expensive printing material of the time.  Besides the high price these massive Bibles tended to be very difficult to transport. Froben's smaller Bible was much easier to carry around and was thus more accessible.  Despite arriving a century earlier than Martin Lunther's 1534 German Bible and despite being printed in Latin,  it served the same purpose as the later sixteenth and seventeenth century Bibles which were translated into other vernacular European languages. They were all made more accessible and available to the laypeople in early modern Europe.
The book today is quite scarce. The last time a first edition appeared at an auction was on December 15, 1986, during an event held at Sotheby's. Current pricing for the only first edition available for sale is $26,200. The second edition which was printed four years later on Oct. 27, 1495 and is equally scarce, is also selling for around $25,000. Not bad for a small octavo that was intended to appeal to the common church goers and ultimately be called "The poor man's Bible. "