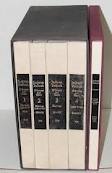 When two or more objects of delight are combined into one amalgamation of pure bliss, the world instantly becomes a better and happier place. Consider a chocolate covered strawberry for instance. Two very different and distinct flavors are combined into a concoction that is truly divine. The creamy and rich chocolate and the sweet, juicy, and tangy strawberry join together to create something vastly more pleasing than what the two flavors are ever able to produce on their own. Such is also the result when rare books and art are brought together. The precious scarcity of the rare and valuable document infused with the aesthetically pleasing employment of color and articulate strokes together warm the sight, as well as the heart and soul. A case in point is the work of Jackson Pollock whose unrivaled style and texture provide the irreplaceable feeling of ameliorative and soothing harmony.
Though the works of Pollock tend to calm the observing eye, Jackson Pollock was actually an impulsive and mentally distracted artist who, like Van Gogh, sought to express his feelings of turmoil and discord through his wild and vibrant paintings. Unlike previous artists of the times such as most of the Impressionists however, Pollock developed his own unique style of placing the unsuspecting paint onto the waiting canvas: he haphazardly though purposefully threw and dripped the paint onto the canvas, and only occasionally spread the paint in a more traditional brush stroke.
While this technique may seem preposterous and unseemly, the results of Pollack's work are truly breathtaking, as they draw the eye and soul into a tangled mesh of multicolored curves and lines. Pollock truly believed that paintings have a life of their own, and that by depositing his paint in this way he was giving his paintings the chance to live in their own autonomous direction. Indeed, when discussing his unorthodox habits of painting, Pollock once said, "I have no fear of making changes, destroying the image, etc., because the painting has a life of its own."
In the world of rare books, Pollock's work has secured an indisputable and rightful position. An incredible collection of his creations entitled Jackson Pollock: A Catalogue Raisonne of Paintings, Drawings, and Other Works is today at the top of the charts. The first edition four volume catalogue was published by Yale University Press in 1978, and is being offered for sale for over $10,000. It includes a protective slipcase, and it contains the bold and mesmerizingly kaleidoscopic works of Pollock's art that the world has come to love. While individual volumes are sometimes found alone and bereft of their necessary partners, the entire four volume collection is not only significantly more valuable, but greatly more beauteous and collectible.
Though "Catalogue raisonné" is a French word, it has been adapted into the English language because it is better preferred. It is the term for a book on art that typically consists of a monograph giving a comprehensive catalogue of artworks by the artist along with details such as title, dimensions, date of the work, medium, ownership, exhibition history, critical assessments, catalog number, etc. It is often used by collectors, art dealers and appraisers to ensure that every one of the pieces of art are referenced accurately. As a result, it is normally more collectible than other art books by an artist that do not contain original artwork.
When the euphoric and compatible marriage of rare books and art is orchestrated such as in the case of Jackson Pollock's four volume collection, an enthralling duo unlike any other is produced. The beautiful monograph has quickly achieved the perfect combination of rare authenticity and enchantingly unique beauty in the period of time since its release. It presents the biographical representation of the artists' work in an organized fashion which allows easy reference for collectors to analyze and evaluate the phenomenal works of art that are depicted.