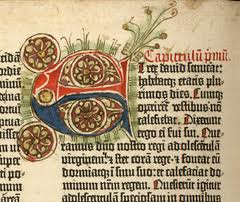 The popular phrase "a picture is worth a thousand words" is often used to convey that a complex idea can be represented and communicated more quickly and efficiently with just a single still image. In the world of rare books the phrase "a picture is worth a thousand ……."(fill in the currency), is sometimes more appropriate.
While it is true that prices for art books of lesser-known artists or modern non limited edition publications have fallen in recent years, rare books of art do still command premium pricing. In "The Most Expensive Rare Book", we attempted to analyze the financials behind the most expensive transaction recorded in history. It took place in 2010 for a set of hand-colored lithograph plates that fetched the highest price for a book paid so far to this day – $11.5 million. At a 1992 auction at Christie's, the same richly illustrated book was auctioned for $4.07 million. That is quite a jump in a timeframe of less than 20 years! But, is it high enough?
Since the Middle Ages, works of art have often been used to decorate the pages of a book. Before the invention of the printing press, books were handmade objects in the form of manuscripts, treasured as works of art in their complete form. The manuscripts created during the years prior to 1600 required an extremely labor-intensive process:  production of raw materials such as parchment, inks and pens created by hand and the actual lettering, embellishments and artistic decorations. It is for this reason that some of the old preservations of manuscripts are some of the rarest and greatest works of art.
Early printing methods, using the movable type printing press such as the one employed in the creation of the Gutenberg Bible, is praised for its high aesthetic and artistic qualities.  With only 21 complete copies of the Gutenberg Bible surviving, they are considered to be some of the most valuable books in the world.  In 1987 a copy of this Bible netted around $5.4 million.
Through the years great works of art have made their appearance in the pages of a book.  Beginning with the years when old master prints were popular, etchings and engravings created through the intaglio printmaking technique have decorated books in Europe.  Books containing mounted monochrome, dual chrome or color plates created as woodcuts or lithographs; sketches with ink or color painting; hand-colored or hand-signed by the artists and plates that are tipped-in or drawn originals using egg tempera paint, are treasured and loved. These books designed to render beauty with decorations and artistic content have given serious collectors another means to invest in tangible assets.
Despite the success of some of these top trade performers, prices for most other art books are performing reasonably.  Our Rare Book Sale Monitor (RBSM) is consistently showing the category of Art/Photography/Architecture as the best overall performer during the periods recorded. It should come as no surprise, that some of the most expensive and increasingly appreciating books contain rare works of art executed by first-rate artists. It is however disappointing to see how many others have not exhibited the monumental elegance and performance of larger works.
How does book art compare to wall art? While the emergence of universities and libraries (Ref: The Handling of Rare Books by the University of Crete Library), in the developed world had originally created a stable demand for such works, the private book collector is lacking behind the art collector when comparing bid prices.  One explanation for the imbalance is attributed to the nature of book collectors, who tend to buy the books because they love them rather than looking for a good investment. Unlike paintings which can be displayed and exhibited, books tend to be more of a solitary affair.