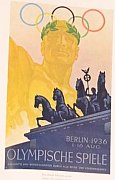 Ever since their earth shattering beginning thousands of years ago in Greece, the Olympic Games have intrigued and excited the world, and inspired many artists and writers to depict the energy and triumph that the Games exude. While their purpose is obviously to compete internationally in sporting events, the Olympic Games also serve to unite the world and bring together various cultures and practices, while showcasing unique athletic abilities. With the Summer 2012 Olympic Games in London starting this week, we set our focus on the winners of the Rare Book Olympiads.
It is interesting to note that some of the rarest and most valuable books on the Olympic Games are those which pertain to the Games which occurred in Berlin in 1936. The Games were handed to Berlin before the Nazis rose to power, but Hitler ended up using the event to demonstrate his belief that the Nazis were the most powerful and capable breed of people in the world. One very scarce account of the Olympic Games is a rare book entitled The XIth Olympic Games Berlin, 1936: Official Report. Wilhelm Limpert-Verlag, (1937). This incredibly rare and hard to find first edition, two volume account has been kept mainly in institutions, and is today appraised to be worth a few thousand dollars. In addition to very unique binding, the book also boasts a lavish combination of both colored and black and white photographs of the 1936 Olympic Games, as well as plans for the layout of the events.
A pdf format of this and other Olympic official reports are available for download at the Olympic Games Museum.
A second Berlin Olympics rare book, Schonheit im Olympischen Kampf [Beauty in the Olympic Games], Riefenstahl, Leni. Berlin: Deutschen Verlag, (1937), is filled with 273 black and white photographs that are described with captions in German, French, Spanish, and English. The first edition is ornamented with beautiful gilt Olympic rings and a photographic dust jacket, and can be purchased for a little under one thousand dollars.
Next, a very interesting story regarding a very rare book on the Olympic Games, entitled Jim Thorpe's History of Olympics. This book was published by Wetzel Publishing Company in 1932, and is being offered for sale for about $1,000. What makes this book so fascinatingly different is that although Thorpe was the greatest athlete of last century (Michael Phelps this century so far), he was ultimately barred and stripped of his medals when he played professional baseball in 1909 and 1910. After his less than pleasant association with the Olympic Games, and writing about their history in his book, professional athletes were allowed to enter the competition beginning in 1986.
Of course, we cannot leave out the incredibly talented artist Leroy Neiman, who was the official painter of five Olympiads. Through his bold and vibrant paintings, Neiman captured the pride of one's nationality and personal success that is felt by each winning Olympian, like no other artist has. While Neiman's Olympics work appeared in galleries, books, postcards, posters stamps and so forth, one book that is completely dedicated to the Olympics is On the Spot Sketches with Commentary by LeRoy Neiman at the XXth Olympiad. Munchen. 1972.  It was published by the Indianapolis Museum of Art in 1972. Since his unfortunate decease last month, even more attention and acclaim is being paid towards Neiman's works, especially during events such as the Olympics.
While newer publications on the London Olympic Games are at this point sparse, the Games have certainly influenced a significant amount of artistic expression, especially in the form of street art. While street art in London has always been a common practice for artists wishing to express themselves and their particular opinions on certain issues, with the Olympic Games' in town, more and more street art is geared towards the less positive aspects of the Games. Controversy usually attracts attention. It would be quite surprising; if none of the street art and its controversy were not already on its way to the printing shop. It may be the next rare book Olympic winner.