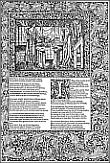 He was an English textile designer, an artist, and a writer. He was associated with the Pre-Raphaelite Brotherhood or Pre-Raphaelites as commonly referred to, which was considered to be the first avant-garde movement in art.  Realism was the culture of the movement he was more active in, stressing the independent observation of nature.  During his English Arts and Crafts Movement days he inspired artisans and workshop groups around America with lectures on decorative arts that were made available at the Boston Athenaeum and other American libraries as soon as they were published in London. But what this libertarian socialist is most famous for is what he founded 5 years before his death – the Kelmscott Press.
William Morris devoted much of the last five years of his life to the Kelmscott Press, the most famous of all private presses, founded in 1891. The mission statement of the press could have been something like "create beautiful books of limited-editions and illuminated-style, using traditional methods." Such a mission revolutionized the production of books during such times when qualities were extremely poor. Using elaborately tooled designs, Morris paid particular attention on type, initials, and borders which he decorated with stylized lilies (fleur-de-lys ) ,  stylized oak leaves and other woodcut decorations. The fine pages of his books issued by the press were printed on the finest hand-made papers of the time, reaching the highest qualities in much later time periods.  Morris managed to inspire many other private presses, including Doves, Ashendene, Vale and Eragny Presses, that adopted some of his high standards.
The books issued by the Kelmscott Press were characteristically bound in quarter Holland over blue paper boards, or limp vellum with silk ties. Books such as the 500 total edition of The Golden Legend by Ellis, Frederick S. (editor) and William Caxton (translator), Hammersmith, 1892 in 3 volumes;  or the 310 total copies of Sonnets and Lyrical Poems by Rossetti Dante Gabriel, Hammersmith, 1894; Poems Chosen Out of the Works of Samuel Taylor Coleridge by Coleridge, Samuel Taylor, Hammersmith, 1896. And, last but not least, the 438 copies of The Works of Geoffrey Chaucer by Chaucer, Geoffrey, Hammersmith, 1896.
The Works of Geoffrey Chaucer did not emerge from the press until June 1896, right before Morris's death.  Universally considered a masterpiece of book design, it was the most ambitious and astonishing project of its time. Unlike previous bindings, Morris announced his intention to provide four special bindings for the Chaucer: two full and two half pigskin designs to be executed by the Doves Bindery and by J. & J. Leighton, because of his debilitating terminal illness. Only forty-eight copies (forty-five paper and three vellum) of the intended special bindings were designed by Morris and made by the Doves. The Doves binding of the folio-sized Kelmscott Chaucer features eighty-seven Burne-Jones wood-engraved illustrations and it is the most famous book of the modern private press movement, commanding a quarter of a million US dollars.
According to the Kelmscott Chaucer census, many of the books are now scattered around the world and are mostly owned by institutions. A large number of copies were sold by a London bookseller by the name of Bernard Quaritch, who was closely associated with the production at Kelmscott. There are still unaccounted for copies, most likely to have been destroyed or intentionally removed from the record. Others still were broken up and sold as individual leaves for amounts as high as $1000 each, that are likely to be decoratively hanging or displayed in some very special areas. After all, that was Morris's intent:  "To give people pleasure in the things they must perforce use, that is one great office of decoration; to give people pleasure in the things they must perforce make, that is the other use of it."