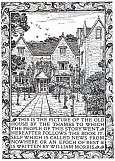 Can a first edition of a rare book be less significant than a later edition? Of course it can. What follows is   a good example of such an "anomaly."
Bibliophiles of illustrated books often argue that the art contained in illustrated books is not being viewed as comparable in appeal to wall art. They call for unity of all the arts and status equality whether being architecture, furniture, wallpaper, textiles, illustrated books, paintings or sculptures. The call is not new. In fact many artists of the Pre-Raphaelite circle in the Victorian Art era of 1848–1900, were not only involved themselves in book design and illustration but were also highly regarded stylists and poets in their own right.
The Pre-Raphaelite Brotherhood formed in 1848 was largely influenced by the early 19th century German painters called "Nazarenes", by England's Gothic-revival movement, the Bible, the poetry of Keats and Tennyson and even Shakespeare. Their book illustrations are currently featured in an exhibit called "Pre-Raphaelites and the Book" in Washington DC at the National Gallery. Just as Burne-Jones would have wanted it, the exhibit is mounted along the side of some 130 works consisting of paintings, sculptures, stained glass, tapestries, drawings, prints and photography, in the East Garden Court of the museum,  in a Victorian exhibit – "Pre-Raphaelites: Victorian Art and Design, 1848-1900."
I had the opportunity to visit the exhibit last autumn, before it travelled to the US, at London's Tate Britain, which unfortunately did not include the extensive book exhibit that the US installation now has.  Featured works from the National Gallery of Art Library and the Mark Samuels Lasner Collection include books of poetry by Dante Gabriel Rossetti and William Morris, wood-engraved illustrations by several Pre-Raphaelite artists, and material related to the Kelmscott Press which was established by Morris in 1891.  The exhibit is a must see for bibliophiles of beautifully illustrated books decorated with Morris' elaborate ornament designs.
The show which is rich in its artistic spectrum of variety, medium and content, has Morris clearly as the absolute star because his genius is multi-faceted. As a designer of Victorian furniture, decorator cloth, wallpaper, stained glass, tapestry and books, his immense creativity is self evident. Aside from the artist-craftsman, his world famous Kelmscott Press made him renowned as a printer and publisher. And as a poet and novelist he exposed himself as the social reformer and political activist who ultimately became the founder of the British Socialist movement. His widely influential novel News from Nowhere, that is considered to be the best-known prose work of his, was read avidly in Russia in the years before the Soviet revolution. In the book, the narrator, William Guest, falls asleep after returning from a meeting of the Socialist League and awakes to find himself in a future society that is based on common ownership and a socialist control of the means of production. In this society there is no private property, no big cities, no authority and no monetary system.  The book continues to suggest that in such an agrarian society people find pleasure in nature and in their work and as a result there is also no divorce, no courts, no prisons, and no class systems.  Morris' ideas are drawing deeply from the work of John Ruskin and Karl Marx, of course.
On 22 November 1892 the book publication of News from Nowhere that had started in 1891 was completed by the Kelmscott Press. The 300 copies, decorated with a woodcut of Morris' summer house Kelmscott Manor, were printed. But to Morris' grief, this was not the first edition of his own book. After the text had been published in chapters in Commonweal, the organ of the Socialist League, it was almost immediately published in America in 1890 by Roberts Brothers of Boston without any permission.  The first edition had 1500 copies printed and today sells for around $300. The Kelmscott Press release later edition is valued at over $5000 and it is close to impossible to locate, with the exception of the free for all "Pre-Raphaelites and the Book" exhibit at the National Gallery.