Few performances or storylines have ushered in the Christmas season quite like The Nutcracker.  The ballet masterpiece by the Russian composer, Pyotr Ilyich Tchaikovsky is based on a little known novella entitled Nussknacker und Mausekönig (The Nutcracker and the Mouse King), which was published in 1816 by the German author, Ernst Theodor Wilhelm Hoffmann. It was later adapted by Alexandre Dumas for ballet, as its story also contains a long flashback describing how the Prince was turned into the Nutcracker, causing there to be far too many acts to perform in the standard time of a typical ballet. The German literature in any edition is quite rare with the original being as scarce as a publication is capable of being.
While famous Christmas tales such as Dickens' A Christmas Carol focus on the deplorable living conditions which a young invalid child is subjected to, The Nutcracker chooses to instead depict the lively imagination of a young girl who is surrounded in an environment which, due to excess and comfort, easily cultivates the unlimited unfolding of schemes, dreams, and fantasies, which exist in only the minds of the young.
The Nutcracker has also introduced many symbols of Christmas which may not have necessarily been correlated with the Christmas season, before it was written. These symbols include candy, fairies, mice, and shoes, among other things, and, like the works of Sendak, it breathes life into an ordinary household object which was most likely never before considered for any other purpose than to simply crack nuts for roasting over a fire.
Today, simply the word "nutcracker" vividly brings mental pictures to mind of a valiant nutcracker prince who, with the help of a brave girl triumphs over the evil mouse king and floats away through a breathtakingly magical world of surreal beauty, goodness, and sugar.
Other than its enlightening and introductory properties, however, The Nutcracker is unique because it is not only depicted in a story, but it is also portrayed as an enthralling ballet. To simply sit in a theater that is filled with excitement and anticipation and to witness the stage curtain ascending into blackness, revealing the stage full of dancers, acrobats and mimes is truly to welcome Christmas's approach, and the joy, whimsy, and magic which it so easily encompasses.
While The Nutcracker is known to delight young children, the Nutcracker in rare book form can also quite easily enthrall the adult audience as well. For the children's books collector, there are two offerings of The Nutcracker that are quite collectible; one from Maurice Sendak, and a second from Walt Disney:
Nutcracker by E.T.A. Hoffman; Crown Publishers, New York, 1984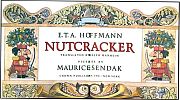 Wonderful first Edition of The Nutcracker, illustrated by Maurice Sendak. Limited to 250 copies. This collection was awarded best illustrated children's book by the New York Times, a true gem for a serious Sendak collector . Signed by Maurice Sendak on the title page.
The Nutckracker Suite by Disney, Walt; Boston Little, Brown 1940

First edition in dust jacket, complete with scenes reminiscent of theater sets, lush jewel-toned artwork. Illustrated by Disney from Disney's Fantasia with piano arrangements by Frederick Stark. A few signed copies are still circulating for the serious Disney collector.
It is interesting to note that The Nutcracker theme, as we know it today is the result of many diverse individuals from many varying countries, backgrounds and time periods. The story was created by a German, the accompanying music and ballet adaptations by Russians, and the most beautiful illustrations by Americans. Amalgamated together, these multicultural men from unique upbringings and influence have created a work that can truly only be called a masterpiece.