From the vividly imaginative mind and pen of the celebrated author and illustrator Maurice Sendak, comes a wealth of vastly unique and rare books which have been overshadowed by the enormous success of his masterpiece – Where the Wild Things Are. The book published in 1963 brought him international acclaim and a place among the world's great illustrators, having been translated into fifteen languages and selling more than two million copies.  More recently he has been hailed for his captivating and arresting illustrations in a tale published in 1970 called In the Night Kitchen.
What set the aforementioned books apart is Sendak's extraordinary talent for transforming common, everyday objects into strange, mysterious, and unforgettably delightful worlds of unseemly nature and pleasantly unconventional inhabitants. Objects found in a child's bedroom and canisters of food found in a kitchen, ultimately take the shape of live and mesmerizing characters, buildings, and objects of transport in each of Sendak's tales.
Sendak's significant contribution to children's literature of interest and intrigue has certainly not begun or ended with this unique artistic style however.  While the first "real" book he illustrated in 1947, Atomics for the Millions, went through 4 U.S. printings in its first year, it was not until after taking an occupation as  a window dresser for F.A.O. Schwartz, that  Sendak made children's book illustration his ultimate career. Sendak delightfully began his illustrating career by producing the charming and pleasing illustrations that embraced his 1950's vintage works, and which remind oneself of the simple and pleasant joys of childhood innocence, beauteous nature, and the vitality of the curious mind and imagination.
While the general pricing trend for collectible children's literature has been nothing but uniform, as measured by our Rare Book Sale Monitor, Sendak's first printings have held up nicely. Primarily using scarcity and importance of work, we prepared a sample of his work that is geared to continue appreciating in value: 

Good Shabbos Everybody; Garvey, Robert,
United Synagogue Commission (1951).               The Tin Fiddle; Tripp,Edward   Black and White illustrations on every page.                                                            Oxford University Press, (1954).
                                                                    Most charming illustrations.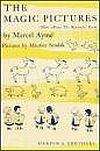 Magic Pictures:More About the Wonderful farm
Ayme, Marcel; NY:Harper Brothers (1954). Farm animal drawings and some great photos of Ayme and a  youthful  Sendak.
                                Charlotte and The White Horse  

                                Krauss, Ruth;  Harper & Brothers, 
                                                                                 New York, (1955) The first Sendak 
                                                                                 illustrations to be printed in full
                                                                                 color.         


The Happy Rain  


Sendak, Jack; Harper  Brothers (1956).
This is the first collaboration
between the Sendak brothers.              Kenny's Window 
                                                       Sendak, Maurice; Harper & Brothers, (1956). 
                                                       First book authored and illustrated by Sendak.
It is evident through the preceding sample that a significant future value is placed on Sendak's work produced during the middle of the 1950s when the illustrator was just 23-28 years old.  Unearthing some of these rare books at reasonable prices should still be possible.  It is also recommended that one gets familiar with Sendak's offering prior to making large investments. A very useful source in helping identify original editions comes from one of the  authorities in Maurice Sendak's works, book dealer Joyce Hanrahan, author of   "Works of Maurice Sendak, Revised & Expanded to 2001: A Collection With Comments."