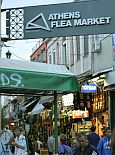 Like many people do, I get to visit the local flea-market in Athens every weekend. The first thing I turn my attention to are the piles of books on large cloth sheets lying on the ground. Of course, some book sellers use benches, tables and so forth, but most of them prefer to use something with a bit more flexibility.
The first thing that is bound to catch one's eye upon entering the market is the large quantity of books and sometimes other printed material, positioned amidst a lot of different kinds of objects. They are stacked together; lying down on the street, with their spines turned facing upward towards the eyesight of the passing shoppers, in large quantities in order to attract the buyers' attention. These are usually books taken from private libraries after the death of the owner, or as a result of immediate financial needs that are so common these days here in Greece. One may be able to detect the characteristics of a particular library that is ending its life in this "inglorious" way – perhaps the profession of the owner, a distinct set of interests, or perhaps the care that had been provided to keep everything in order.
Many of the books are bound, and most are in fair to very good condition, occasionally spotting some older 18th and 19th century books amongst the piles. The flea market is one of the best locations to pick something up that is available for sale significantly below its fair market price.  The bad thing is that no attention or care is paid to the books. Sometimes one can see a filthy sea umbrella serving as protection for the books against UV rays, but generally speaking, one will quickly notice that the sellers are only interested in getting rid of them as quickly as possible. They see their books merely as objects that can be exchanged for something more useful; in this case money or scrap material to be recycled. No preservation efforts, no care about the merchandise whatsoever. The collectors will either buy the books as they are, or just pass them by.
Books, and especially old books, require care. They are a fragile paper conveyor of content most vulnerable to moisture, smoke and extreme temperature. All summer long, the sun has been roasting them, and now as the autumn begins; rain will do its part. I recall from past years here in Greece and also in Italy how heavy the books were after a few minutes of rainfall… It's a shame!!! Often times, this same seller would approach me holding such a brick-book asking whether I could revive it to its former state… It's a pity we are not miracle workers. I spend a great deal of time trying to educate book sellers on the prevention against cruelty to books, especially at the flea-market, where conditions are far from acceptable.
Another thing that disturbs me is when a group of people inspecting the books carelessly dig their hands into the pages, transforming a stack of books into a small pile of fragmented paper.  So, after a while, you cannot find the missing volumes that are hidden somewhere inside the pile, or you notice with terror that the first or the last pages of the book that you had been looking for,  for such a long time, have been torn away in this mess… Many times I happen to find books I like but their covers are detached and lost inside this shapeless heap. A lot of effort has to be put in recovering them. Not to mention the dirt…
For anybody having the opportunity to visit the flea-market in Athens or any of the local flea-markets dealing in books for that matter, take this advice – be patient and try not to let the conditions spoil your good mood.