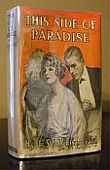 Last month we published a set of tips and techniques regarding book conservation, and mentioned a number of book care supplies that can be extremely helpful in carrying out some fundamental book preservation tasks. This month we will provide more details on some of the specific products from specific conservation suppliers that are available and have proven to be very good. These suggestions are from our own experiences, and we are not currently promoting or sponsoring any of the below mentioned vendors.
It seems logical to classify these products by the type of retail source offered through. There are two types of ways to purchase from those that are located in a general type of local store such as an art supplier, or a drugstore or even a supermarket, and then there are the ones that are usually only available from specialized conservation suppliers or manufacturers. For example, locating a good pair of protective gloves, paper towel or cotton balls; corrugated boxes, isopropyl alcohol, wipes, rubber erasers and so forth should be an easy task. On the other hand, some exclusive book conservation materials are harder to locate. The following list is for the specific specialized tools and supplies that are, for the most part, only available through conservation specialists:
Vacuum cleaner:  Mini-Vac available from Talas, 330 Morgan Ave, Brooklyn, New York 11211, USA Phone: 212-219-0770 Web: www.talasonline.com.  A small, portable vacuum cleaner with low suction which removes minute loose particles of dust and debris such as eraser crumbs. Used primarily inside edges and corners of covers and pages of a book that are hard to reach, as well  as the top edges of books where dust commonly settles.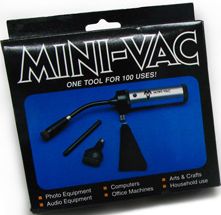 Interleaving paper: For the removal of unwanted odors from some of our books such as those from smoke, mold and mildew, we have been using MicroChamber interleaving paper from Conservation Resources International, 5532 Port Royal Road,Springfield, Virginia 22151, USA.  Phone: (800) 634-6932 Web: www.conservationresources.com.

Leather protectors/restorers:  Leather Saver from Preservation Solutions, LLC., Golden, CO 80403, USA Phone: (303) 642-3060 Web: www.preservation-solutions.com. For use on antique leather binding that has not begun to deteriorate in order to restore dry, stiff leather to its original condition. Does not discolor, leave heavy or oily residue and does not contain sulfur or toxic materials. It also protects leather from the sun's damaging ultra violet rays.
Chemical Sponges:  Latex-free polyurethane foam sponges are ideal for cleaning textblocks. They are made with a hydrophilic material formed by the chemical reaction of a glycol and pre-polymer combined with water. University Products Inc., 517 Main Street, Holyoke, MA 01040, USA.  Phone: (800)628-1912 Web: info@universityproducts.com.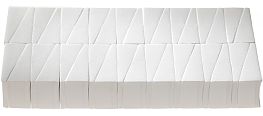 Mylar coverings:  Mylar or melinex plastic transparencies used for protecting dust jackets as well as cover paper and leather bindings against ultra-violet rays, dirty fingers and so forth are available at a variety of sizes and compositions at Brodart, 500 Arch Street, Williamsport, PA 17701 U.S.A. Phone:  (888)820-4377 Web: www.shopbrodart.com.
This is by no means an extensive or complete list of supplies or suppliers of book conservation material. If you have been using a product that you are very satisfied with, please leave us a comment so that our readers can benefit from your experiences as well. Also, please keep in mind that this is not meant to be a replacement for professional services, which, as stated before, are worth pursuing especially for your high valued books in need of restoration.