Almost all Christian wedding ceremonies include the favorite Bible verse which includes the phrase "Love is patient, love is kind" (1 Corinthians 13:4–8a), to convey the essence of love.  During the month of February, many of us try to find the perfect opportunity to rekindle a romance or strengthen a bond amid the commercialized chocolate & roses love ritual. However, at Rare Books Digest, there is a wonderful recipe guaranteed to spice up any sensual experience. For all book lovers out there may I suggest an alternative this Valentine's Day celebration – a pink cake, as in Love is a Pink Cake by Corkie and Andy.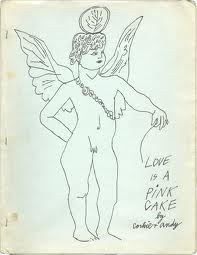 The early collections of Andy Warhol's ink line drawings, which illustrate love poems written by Ralph T. Ward ("Corkie") are a true representation of a collaboration between the two artists. Moreover, they serve as an implication of an intimate relationship between the two. The year was 1953; a time when Warhol self-published a series of portfolios, unbound books and prints. It is considered to be the genesis of his printmaking career and the manifestation of a great deal of irregularities and variations as they appear to exist from one copy to the next. For example, some copies of Love is a Pink Cake include 24 offset lithographs, while others contain 25. However, others differ in text as well as the side-stitched vellum wrappers that serve as a binding.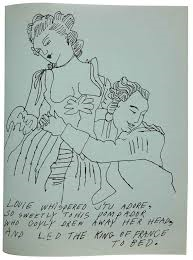 Andy Warhol's illustrated books from the 1950s are quite scarce.  They include early commercial artwork on dust jackets for publishers such as New Directions, and they range from a book titled Love is a Pie, for which no mention of Warhol appears anywhere in the book,  to the beloved  25 Cats Named Sam and One Blue Pussy. While working as a commercial illustrator, he self-published books and portfolios, which he then sent to prospective clients as samples of his work.  They represent a showcase of Warhol's innate sense of design and composition, as well as his
humor and wit.
The pricing of Love is a Pink Cake seems to be as flexible as the variations in its composition, condition and provenance. Auctioned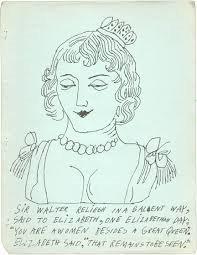 copies from 2007 registered on the high end of the spectrum, while more recently in 2012, New York Phillips auctions sold the complete set of 25 offset lithographs, on pale blue paper, unbound (as issued), in less than perfect condition for $8,125. The Baltimore Maryland book dealer, Royal Books, is offering a copy believed to be one of the earliest copies issued, given by Warhol to friends who lived in the same building where Corkie Ward had been living.
Perhaps the best offering will soon be offered at an on-line auction event at Christies which will take place Feb 26 – Mar 4, where it is valued at $4,000.00 – $6,000.00. It is unique in that it is inscribed by 'Andie Warhol 242 Lexington Ave NY NY' on the reverse. Taking into consideration that Christie's lists no apparent condition problems and that the book comes with a Certificate of Provenance from the Andy Warhol Foundation for the Visual Arts which indicates that the work originated from the Estate of Andy Warhol, we expect that bidding should come in way above the high estimate.
So for all you book lovers out there looking to stretch Valentine's Day out a few days, months and even years longer,  take it from the man reputedly loving cats, keeping as many as twenty-five in the Lexington Avenue apartment he shared with his mother – celebrate this Valentine's Day a bit more romantically and creatively. Forget the flowers and chocolate, and go for the "Pink Cake."