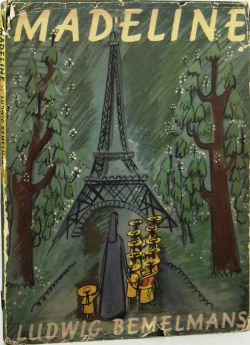 "In an old house in Paris that was covered in vines"……
For seventy-five years, Ludwig Bemelman's iconic words have graced numerous playrooms and nurseries around the globe, as children of all walks in life have snuggled down to hear all about the young girl Madeline's many adventures.
What is extraordinary about Bemelman's creation is that she is, quite literally, anything but ordinary.
In fact, what is interesting to note about this much loved children's series is the fact that it very much strays from conventional ideals pertaining to the nuclear family and the presumably normal habits therein. Rather than living in a home with a mother, father and perhaps a sibling or two, Madeline spends her young days in an organized and routine fashion within a girls boarding school. And though she is instantly introduced to the reader as a kind and compassionate figure with a warm place in her heart for her pupils, the matron of the school, Miss Clavel, appears quite ominous and intimidating, swathed head to toe in midnight black clothing, as per the order of her nunhood to the Catholic church.
Nevertheless, children all over the world have loved and clung to the tales of Madeline, and she has since grown to be a significantly large and very popular worldwide phenomenon, appearing in multiple locations around the world in the form of dolls, music boxes, coffee mugs and paper dolls, to name a few items.
One major draw towards the tales of Madeline and the ensuing obsession that children have since held with her, stems from the fact that she is literally fearless and ready for whatever may come in her day to day life. Though Madeline is clearly described as being "the smallest one," Madeline does not succumb to the presumed frailties that her size may encompass, and instead braves each happenstance in her life with a bold and determined spirit that can only be admired and respected.  As the first book in the series explains, "To the tiger in the zoo, Madeline said "poo, poo.""
Furthermore, Madeline faces many intense circumstances throughout her young life, that still leave her undaunted. A midnight bout with appendicitis and emergency surgery? With her trusty hat in hand, Madeline is prepared for whatever challenges she is faced with.
Additionally, Madeline allows positively no one to behave with an arrogant air towards her.  Put simply, Madeline does not tolerate anyone who attempts to cause her to feel inferior or disturbed. When the Spanish Ambassador's son, Pepito sets up residency next door to the boarding school in the book, Madeline and The Bad Hat, Madeline stands her ground and refuses to be deterred by Pepito's cruel pranks and haughty nature.
How can the world help but to admire her?
Today, Ludwig Bemelman's book series is as valuable as it is loved. First Editions of the 1939 first book in the series, Madeline, are being sold for as much as $5,000. But its high monetary value is not only the direct result of masterful storytelling and a highly revered heroine. Rather, it is Bemelman's exquisite illustrations that beckon readers of all ages to become encapsulated in the dazzling and brilliant world that he so wondrously conjured up.
In honor of the prestigious 75th year anniversary of a much beloved book series, why not add the adventures and tales of Madeline to your rare book collection?  It's an offer even the ornery Pepito would scarcely refuse!