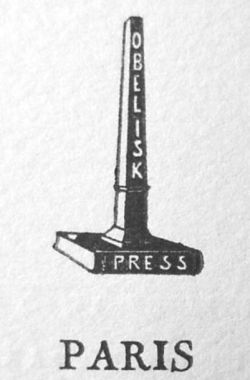 A mix of censorship and bad novel-writing can provide the right ingredients in bringing about scarcity in rare books. That is exactly what the 1930's, semi-underground literature publisher Jack Kahane created through his production at Obelisk Press. This is not to say that Obelisk published strictly smutty books since well known writers such as Henry Miller and Lawrence Durrell had their elevated literature published by Obelisk. But it does show that while attractive literature may ultimately become scarce due to increased demand, the lack in supply is what usually brings scarcity to the not so attractive or less important literature.
The supply of rare books is normally following slowly diminishing market availability and thus higher pricing. While supply is slowly drifting downwards, both censorship and lack of good novel-writing aspects put the damper on the number of copies published and sold at the early stages of the book's life. A publisher is likely to have no additional printings published if the novel is not well received. Historically, authorities have also slowed the production and distribution, and have even confiscated and destroyed publications that were deemed harmful to citizens.
Censorship drove Jack Kahane to form the Obelisk Press in 1929 in an attempt to publish books in France, (in English), and bypass the strict censorship that was practiced in Britain at that time. Buyers of his books were primarily American G.I.s passing through Paris on their return home and British citizens who risked having the books confiscated at the border for reasons of "sexual corruption."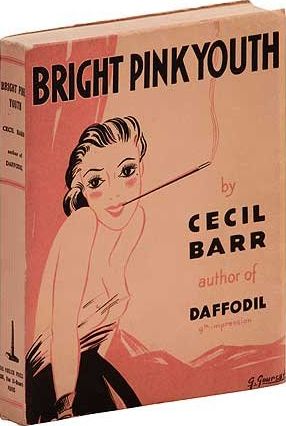 Supplementing Obelisk's offering, Kahane acted as a writer under the pseudonym of Cecil Barr. His books Bright Pink Youth (1934); Lady, take Heed (1937); Daffodil (1931); and Amour: French for Love (1932), considered too risqué to be published outside of Paris, were well received. Kahane died within days of the outbreak of World War II, having just finished his final book, Memoirs of a Booklegger (1939). Today, first editions of his books are hard to find, with some trading close to $1000.
Mixing serious work with smut, Obelisk's list includes Henry Miller's (1934) novel, Tropic of Cancer, that contains explicit sexual passages that prevented it from getting it published anywhere besides France; Richard Aldington's Death of a Hero (1930), Anaïs Nin's Winter of Artifice (1939), Cyril Connolly's first book and only novel, The Rock Pool (1936), James Joyce's Haveth Childers Everywhere and Pomes Penyeach (1932), Frank Harris's My Life and Loves (1934) and Lawrence Durrell's The Black Book (1938).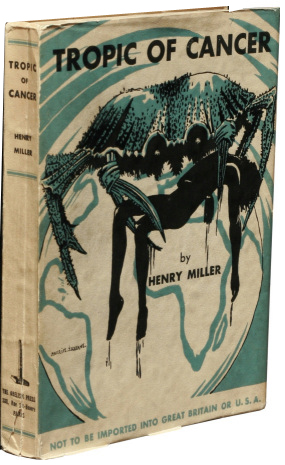 Obelisk published five more of Henry Miller's books which blended his expressive real-life memoirs and fictional chronicles. His most characteristic works of this kind are Tropic of Cancer (1934), Black Spring (1936),and Tropic of Capricorn (1939). First printings in good condition are trading for a few thousand dollars.
Other novels, such as the Uncharted Seas, which was not significant enough to be referenced in Kahane's Memoirs of a Booklegger, is a good example of the effect censorship and bad novel-writing have on scarcity. The book got published in 1937 without good authorship, using sexual corruption in an attempt to attract sales, during a year that was terrible for the Obelisk Press business. Bessie Cotter (1936) written by Wallace Smith, was described by Kahane as 'the best story of a prostitute ever written in English. It was originally published by Heinemann, London, who was promptly taken to court and found guilty of publishing obscenity and fined 100 guineas. Despite the lack of appealing stories or authors, these books are still trading for more than a few hundred dollars.
Usually published in printings that run 1000 copies or less on a limited budget, Obelisk books had much to be desired upon publication. Fragile volumes that easily got worn along the edges, rubbed, and creased, that were usually sold uncut, suffered through the original owner's rough cutting. Thus, collectors find it extremely difficult to secure good quality copies of this once actively suppressed publisher. Factors that will keep Obelisk publisher's pricing remain erected upwards for a long, long time.