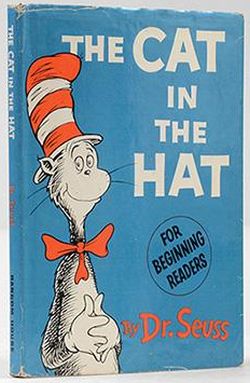 The collecting world probably seems nuts to sane people. In books, as with other things, it is astonishing how very small things that would pass unnoticed to a novice can keep serious collectors up at night.
"Dear Mr. Dawson,
            I saw your website and wanted to see if you would be interested in a Dr. Seuss Cat in the Hat (1957) first edition (second or third printing, not sure). There is no DJ, but the cover is in very good condition and the inside pages are in excellent condition.
            Let me know what specific information would be helpful. I can also forward pictures.
Best, John"
Dear John,
Seuss' The Cat in the Hat is certainly one of the top children's books ever written. Bibliographical details on this book and many other of Seuss' books can be very confusing. Fortunately, I have a copy of First Editions of Dr. Seuss Books A Guide to Identification written by Helen and Marc Younger and Dan Hirsch published by Custom Communications in 2002. It is considered the authority on Dr. Seuss books.
Your copy sounds like it is in very good condition, but is missing the dust jacket. The dust jacket is the colorfully printed paper cover that is folded around the covers of a hardback book. Serious book collectors are nuts for dust jackets and their absence is always a serious flaw to any collectible book that came with a dust jacket because collectors want books in as close to original condition as possible. Because the paper dust jackets were fragile many have gotten damaged or lost through the years. Some people threw them away as soon as they bought the book! Thus on a collectible book that would be worth say $1,000 with a dust jacket in fine condition, the value might plummet to $250, or $100 or even less if the dust jacket was missing. The jacket can literally be 75% to 90% of the value of a collectible book. It is like what you see on the PBS Antiques Roadshow, where the box the old toy came in is worth more than the toy, because so few boxes have survived. And as we know, collectors can go nuts for rare things that few other collectors have.
Now very early books did not have dust jackets. Dust jackets came into being in the later part of the 19th century. At first they were little more than plain brown paper with maybe some printing on them. But by the early 1900s, they started to be printed with color illustrations on the front to better attract buyers. The very first dust jackets can be quite scarce. In point of fact, in 1995, a copy of the first "edition" of L. Frank Baum's The Marvelous Land of Oz printed in 1904 sold for $27,000 at auction. It was the ONLY known copy to still have its dust jacket.
So now we know that because your copy of Cat in the Hat is missing its dust jacket, it would be worth only a fraction of what it would be worth if it had its jacket. But wait, it gets even worse for your copy. Sometimes dust jackets have information that is crucial to the identification of the printing of a book. Information that is not on the book itself. And that, unfortunately, is the case with your The Cat in the Hat. According to the Seuss bibliography, the printing of the book can only be determined by the information on the dust jacket. In this case it is the price 200/200 on the front flap of the jacket, by the jacket having been printed on flat and not glossy paper, and with no mention of the Beginner Book series on the rear panel. Sometimes identification comes down to very small differences between one copy and another.
Just like there is usually a huge price difference between a first edition that has its dust jacket and one that doesn't, there is usually a big price difference between a first edition (i.e. first printing) and a second, third or later printing. Unfortunately, the language is confusing. Even though they say first edition, what dealers and collectors really mean when they say first edition is first edition first printing. An edition of a book is the number of copies they ran off at one time. If those sold out, they would print another batch which would be the second printing, etc. A very popular best seller might have dozens of printings. Now if they corrected or changed something in the text, that would change things. A small change would be an issue, a big change would make it a new edition.
It can get complicated, but it comes down to the fact that the earliest form of a collectible book is usually the most valuable because while there can be only one first edition (i.e. first edition first printing) there can theoretically be an unlimited number of reprints. And with few exceptions, reprints don't usually interest collectors. Or at least not the way, the first printing would. Now there could be some exceptions, for example if the author was famous and had autographed the reprint. But still it wouldn't be worth as much as a first printing that had been autographed.
Dust jackets of collectible books are desirable and valuable. Be aware that sometimes there is no difference between the dust jacket of a first "edition" and the dust jacket of a later, but still early printing. That is the dirty secret of the modern book collecting market that I have never seen anyone address, so some people would take the dust jacket from a reprint that was worth a few dollars and put it on a valuable first edition that was missing its dust jacket. Sometimes to someone with a sharp eye it is easy to tell if this has been done, sometimes not. This type of switch is called a marriage. And if this marriage is noted by the seller, then it is OK. If not, then it is sneaky at best and fraud at worst. And usually the later dust jackets are different, so beware of switching them. For example, a dust jacket of a 1925 5th printing of a book that was first printed in 1910 might contain an ad on it for a book that was published in 1920! Obviously a book not printed until 1920 couldn't have been advertised for sale on a book printed in 1910! Sometimes the only difference on the later jackets is that the price was changed, so a jacket with the price clipped off can be a warning the jacket on the book now is a later replacement.
Also be aware that there are reproduction dust jackets of valuable books for sale on line. These are nicely done and reasonably priced, and also they are properly labeled as being reproductions. There is absolutely nothing wrong with putting a reproduction dust jacket on an old book as long as someone doesn't try to commit fraud with it. And I have heard of cases where someone paid big money for a collectible book online or in a shop only to find out later that what they thought was the original jacket was a modern copy and so the book turned out to be only worth a fraction of what they paid. A reproduction dust jacket would only add a couple of dollars to the value of a book. And let me add that it is not the makers or sellers of the reproduction dust jackets who are doing this. There is absolutely nothing wrong with having a repro dust jacket on your valuable old book, so long as you know that it is a repro. If a book is valuable enough, you might not be able to afford a copy with an original dust jacket anyway! So a repro. is the next best thing.
Sometimes by comparing an original jacket with a repro. jacket under high magnification, the process used for the printing is probably noticeably different between the old jacket and the new. Also, look at the back. The paper is probably slightly different, too. It will also be newer, but, of course, there are ways to artificially age the appearance of paper.
But back to Seuss. I will pass on it. Your copy could very well be a first printing, but without its dust jacket, that could never be proven. So we must assume that it is one of the many reprints of it that were done and so probably would have minimal value.
___________________
James Dawson is the owner of Unicorn Bookshop in Trappe, Maryland.
First published by The Journal of Antiques and Collectibles.