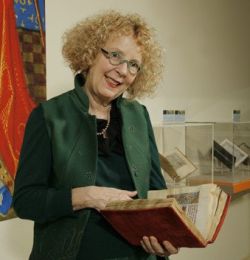 Les Enluminures owner, Dr. Sandra Hindman, is a leading expert on manuscript illumination. Professor Emerita of Art History at Northwestern University, she is author, coauthor, or editor of more than a dozen books, as well as numerous articles on the history and reception of illuminated manuscripts and on medieval rings. These publications include The Robert Lehman Collection. IV. Illuminations (New York Metropolitan Museum of Art, 1997); Manuscript Illumination in the Modern Age: Recovery and Reconstruction (Mary and Leigh Block Museum of Art, 2001); Toward an Art History of Medieval Rings: A Private Collection (Paris, 2007); and Take this Ring: Medieval and Renaissance Rings in the Griffin Collection (Brepols, 2015). Sandra Hindman is a member of the Antiquarian Booksellers's Association of America, the National Antique and Art Dealers Association of America, the Syndicat National de la Librairie Ancienne et Moderne, and the Syndicat National des Antiquaires.
We recently had the opportunity to speak with Dr. Sandra Hindman on the occasion of Les Enluminures' landmark quarter century anniversary.
Rare Books Digest: September marks 25 years since the establishment of Les Enluminures. During these years the rare book market saw a decline of institutional buying as sales to private collectors have increased. Did illuminated manuscripts also exhibit a similar trend?
Dr. Hindman: I don't think this is the case for manuscripts of any sort. Perhaps cuttings and single leaves are mostly bought by individuals. Illuminated manuscripts in the 25 years I've been in business have been bought both by institutions and private collectors. I detect no change. Text manuscripts, one of our specialties, are bought now (and for many decades) 95% by institutions.
Rare Books Digest: How does your specialization in medieval and Renaissance illuminated manuscripts help provide guidance to clients interested in fine and decorative arts?
Dr. Hindman: We are surely the most specialized dealers in our field with seven PhDs among us. Nearly everyone who doesn't have a doctorate has an advanced degree. Most of us publish for peer-reviewed journals and presses, not just commercial ventures. We offer special "curatorial services" well described on our website – cataloguing, collection advice of all sorts, exhibition suggestions, and so forth. No one else in the trade can offer the level of specialized guidance we can supply. I think our clients find this reassuring, the idea that we have their own interests in mind and that at the same time we are "objective" scholars as well as dealers. Moreover, because of our backgrounds, we have excellent relationships with the museum and library world, and we are therefore able to help them make connections there that they wouldn't otherwise find so easy.
Rare Books Digest: How did the intrinsic value between Renaissance illuminated manuscripts and fine, decorative arts compare, looking back during the last 25 years?
Dr. Hindman: I can't give you real statistics, but 30 years ago (from c. 1984 to c. 1987) a manuscript held the record for the most expensive work of art ever sold (the Gospels of Henry the Lion). This record was toppled by Japanese buyers who acquired a series of Van Gogh paintings during the Impressionist craze in the late 1980s, and then subsequently these were supplanted by modern and contemporary records, Picasso, Bacon, and so forth. That being said, manuscripts now look "cheap" compared to other works of art, especially given their age and tip-top condition, which has resulted in a new client base being formed among modern art collectors. There has never been an era when manuscripts were not avidly collected, and the same holds true today. It's unthinkable that a manuscript would again hold the record for the most expensive work of art ever sold, but you never know what the future will bring. Were the unimaginable to happen and the Tres Riches Heures [were] to be sold to benefit the French State, perhaps, it would fetch in the many hundreds of millions, more than a Giacometti, a Bacon, or a Picasso!
Rare Books Digest: Given the scarcity in supply, is there any particular area within illuminated manuscripts that could be more attractive to collectors today?
Dr. Hindman: Books of Hours were always personal and private possessions, often passed down through families, and when they changed hands they frequently ended up in other private collections. Thus, they are readily available on the market (perhaps 60 or more change hands every year). Many of the most famous and most expensive Books of Hours remain in private hands today. It is still possible for the astute collector, well-armed with the right questions and with a reasonable budget, to put together a world-class collection of Books of Hours. I'm not sure you could say the same thing about Old Master Paintings or Impressionist Works of Art. You certainly could not do the same for medieval decorative arts – ivories, reliquaries, enamels – because the supply just isn't there. Nor could you form a collection of Old Master Drawings such as Ian Woodner formed, comprising many pre-1500 masterpieces. You probably could assemble a museum-quality collection of Post-War American Art, but at what a price. Surely, it would cost many multiples of what a dazzling collection of Books of Hours would cost. Here's a goal, then, for the ready collector looking for a new field.
Rare Books Digest: The 90's were characterized by less excess in collecting from prior years, especially for the market in contemporary art. Has excess buying in illuminated manuscripts ever occurred?
Dr. Hindman: Quite simply, I don't think so. The demand has always exceeded the supply, which serves to keep prices steady. There is another important factor too: the illuminated manuscript market has never been subject to speculation or regarded as "placement."
Rare Books Digest: Have collectors of illuminated manuscripts changed over the years?
Dr. Hindman: Not really. Nobody collects illuminated manuscripts to put them on their walls and impress their friends at dinner parties or because it's the chic thing to do on the party circuit of modern art fairs. Most collectors of illuminated manuscripts are, and always have been, relatively private, even somewhat introverted. They collect for themselves. (My other field is medieval rings, and I wear a fifteenth-century English ring daily. To the non-specialist my ring looks like "nothing." I like to say that you wear medieval jewelry for yourself whereas you wear Bulgari, Tiffany, Buccellati, Cartier, etc. for others. The same is true of medieval illuminated manuscripts).
Rare Books Digest: The world rare book market today has been estimated to have annual sales of over $500 million. What percentage of that do you estimate to be attributed to illuminated manuscripts?
Dr. Hindman: Wow, what an interesting statistic and question. The market supports four dealers of illuminated manuscripts and essentially two auction houses with two sales each a year. If illuminated manuscripts exceed 100 million, I would be surprised. Say, around 50 million or 10%? But, really this is a wild guess.
Rare Books Digest: With the explosion of technology and the vast availability of knowledge, do you foresee a time when the higher end of this market will not require personal contact or the confidence of the buyer in the expertise of the seller to complete a transaction?
Dr. Hindman: No, I don't foresee this. It's too specialized. The buyer will never have sufficient knowledge and expertise, even with advanced technology, to do without a qualified specialist in my field.
Rare Books Digest: Thank you. Best wishes for Les Enluminures.