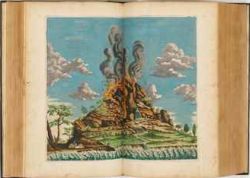 17th century German Jesuit scholar, Athanasius Kircher, published around 40 works, exploring a variety of topics, ranging from a universal language scheme, to pneumatic, hydraulic, catoptric and magnetic science. His books are lavishly illustrated, written in Latin, and were in wide circulation during the 17th century. Collectors historically have sought some of his most notable volumes on topics such as comparative religion, medicine, Egyptology, geology, and music theory.
In this, the 21st century, auction houses and dealers have sold numerous copies of "Mundus Subterraneus", both in the original edition published in 1665, and the reprints from subsequent years. In this book, Kircher explores the theory that tides are caused by water moving to and from the subterranean ocean and concludes that the center of the earth is a massive internal fire for which the volcanoes are mere safety valves.
"Ars magna Lucis et Umbras in DecemLibros Digesta", published in 1646, covers his work on light, shadow, and optics that lead to the production of camera obscura and magic lantern. In "Musurgia universalis", Kircher gives an exhaustive encyclopedia of the music of the times, which remained the standard resource of music into the 18th century. "China Monumentis" and "Toonneel van China", published in 1667 and 1668, with maps and engraved illustrations, are considered to be some of the most influential books which shaped the European conception of China in its day.
The average sale price for these books varies from a few thousand US dollars to approximately $10,000 on the high end. Since the beginning of this century, prices have remained relatively stable due to a reduction in institutional buying interest. Institutions were early buyers of Kircher's works; a trend, that lasted through the beginning of the 1970's.
Once in a while a scarce edition is brought to the market, generating renewed interest. A recent example is the very scarce copy of "Mundus Subterraneus", which was auctioned just last July by Christie's during "The Giancarlo Beltrame Library of Scientific Books, Part I" event held in London. The book without any special associations or provenance, sold for close to $200,000! It is, however, an extremely rare book being one of two of Kircher's books recorded at auction to contain contemporary colored illustrations. The other was a copy of a Dutch edition of the "Toonneel van China".
Multi-color printing in the middle of the 17th century was not easy to do. Multi-colored engraving was invented in 1702 by German Jakob Le Blon, which was at least 35 years after the publication of "Mundus Subterraneus". Kircher's motivation to produce a few copies of his books in color was one of pure experimentation. It is fairly certain through the analysis of 17th Century correspondence letters from Johannes Marcus Marci to Kircher that the Voynich manuscript, was for a period of time, in his possession. Johannes Marcus Marci, a Bohemian doctor and scientist, rector of the University of Prague, sent the enigmatic Voynich Manuscript to his long time friend, Athanasius Kircher, in the hope that Kircher was going to be able to decipher it. One of the extraordinary attributes of the enigmatic manuscript is the coloring of the illustrations. Modern day research analysis found the manuscript's parchment pages to date back to the 15th century, with color added using iron gall ink (also known as iron gall nut ink, oak gall ink, and common ink), made from iron salts and tannic acids from vegetable sources.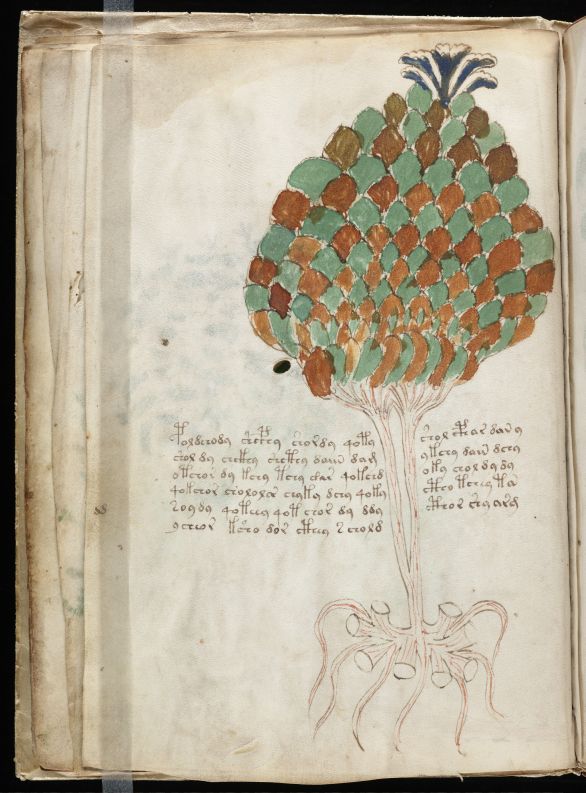 The colored "Mundus Subterraneus" containing two volumes in one, has 19 engraved plates of which are 10 double-page, 2 double-page and folding, and 7 full-page. It also has 64 finely colored, by hand, engraved illustrations which contain one full-page and 2 on separate sheets. There are an additional 7 tables and numerous woodcut illustrations, some of which are also in color. While there is no indication as to whose hands applied the coloring to the engravings in Kircher's work, one could dare to suggest that due to the contemporary nature of the work, it is quite possible that Anthony Heeres Siourtsma , pupil engraver of Dutch designer and copper engraver, Christin de Passe II, commissioned the job.