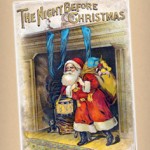 With Christmas just around the corner, last minute shoppers are looking for ideas to buy gifts for their loved ones. Offering a rare book as a gift is definitely a choice that is not thought of by many but is nevertheless a wise choice for many reasons. Rare books are appreciated by many people because they are considered to be a great investment in value as well as knowledge. A rare and old book is after all, a collector's item, it is a vintage gift, and it is often a source of knowhow and a possession of human intellect and craftsmanship.
The options for a rare book as a gift are numerous, as there are plenty of unique, and one of a kind, rare books to be discovered. The rare book selections that one can make can be as unique as the giver, and satisfy any taste. They can be affordable and will definitely be appreciated by that difficult recipient whose name often forebodingly glares from its perch on the gift list. While a rare book can be given to a man or a woman, we must admit that it will not be much appreciated by young children who are not yet old enough to appreciate a rare book's value. If you are thus far convinced that a rare book is the right gift for your loved one, the delightful search for the right rare book should begin!
The first question that comes to mind is where? Where to find rare books? Rare books can be found at bookstores or antique stores that specialize in, and have the knowhow to assist with your rare book search. They can also be found online or physically by visiting a used books bookstore. Regardless of where the rare book is obtained, it will be helpful if the transaction is well aligned with the criteria described in our recent article, Ten tips for a safe Rare Book purchase.
There are also several other criteria that will enable you to select the right rare and vintage book for your loved one:
Person's Interest: It is important to know the person's interests. It may also be important that your loved one loves books and is very fond of a specific author or artist. Try to match some of these interests that the person you have in mind, cares for.
Rare Book collector: If your loved one is already a rare book collector, then the decision for a rare book as a Christmas gift is easier, but the choice of which book to purchase becomes harder as it is important to make sure that the chosen book will properly belong in the genre of his or her collection.
Budget: Many people believe that rare books will cost beyond their means. This however is not the case.  While it is true that a rare book's price may vary from tens of dollars to millions, the prices vary depending on various factors. You will need to first define your budget or the range within which you are willing to spend before browsing potential purchases.
In order to have all available choices concerning the place of purchase besides a rare book store, there are also very helpful auctions and book fairs worldwide. However,  since it all depends on the accessibility of the place and the timeliness of your decision, it is reasonable to assume that last minute shoppers will not have these options, as auctions and fairs do not take place on demand.
Once this rare and priceless gift is given for the first time and is appreciated by the loved one, the ''Rare book'' journey will soon begin. Rare books are definitely no ordinary gifts. They are not standard like a golf stick or a shirt. A rare book is a gift that will be treasured and have the potential to appreciate in value. Thus it can and should ignite the desire for a "rare books collection'' journey. The relative or friend can use his/her first rare book as the beginning of his/her rare book collection. It can be the first of a series of gifts (s)he can receive not only for Christmas but for any other special occasion.
This year give your loved ones a Christmas gift to be remembered.  It will be a Christmas gift that will be appreciated and a gift which will in turn appreciate in price and value over time. It can be passed down to the next generations and if properly cared for, be immortal. Give them a rare, old, vintage and antiquarian book. It spans for more than a lifetime.