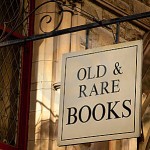 If you are looking to invest in a book or books defined as rare, old, used, vintage, unusual, antiquarian and so forth, chances are you will spend some hefty amounts of money. A lot of people become skeptical when buying a rare book for all sorts of reasons:  Is it as described?  Is it going to lose its value? How trustworthy is the seller? Is there a guarantee?  The following set of tips can help when you are in the market for an antiquarian book:
High Standards: Does the individual bookseller belong to an esteemed professional association? Rare and antiquarian book associations accept people with qualifications, experience and high reputation. This is a reassurance for the buyer that the seller has adopted some good business code of conduct.
World's Expertise: Does the  book seller  have  international exposure and experience? Having such an experience would indicate that (s)he has an in-depth knowledge of the rare book marketplace. If the bookseller has written bibliographies and/or other related scholar compositions it should be considered a plus.
Consumer Protection: The rare book seller should maintain a detailed code of ethics that serves to ensure some level of consumer protection. The various institutions that a seller belongs to, usually have published guidelines through multiple media. Various national or regional laws may also offer additional consumer protection.
Guaranteed Authenticity: The code of ethics requires that the rare, old, vintage and unusual books are properly described. This requires professional descriptions using a set of well-defined standard definitions. Their authenticity and off course genuineness must be ensured and guaranteed by the bookseller. If authenticity for any reason fails to be proven then the buyer should be promptly refunded, no questions asked.
Book Fairs: It would be appropriate for the rare book seller to attend, participate and even sponsor rare book fairs since this would indicate that he is a respected and knowledgeable member of the antiquarian book community.
International Collegiality and Cooperation: It would be a plus for the rare book seller to be well connected and in cooperation with overseas booksellers as this would indicate that (s)he is a recognized individual. If s(he) has transacted internationally this would be an additional plus since this would indicate that your rare book dealer is capable to servicing buyers internationally.
Directory: If the rare book sellers are listed in a local, national or international directory of rare and antiquarian book dealers, you would be able to search these directories and be able to find their specialties, another factor that would inspire trust.
Education: The more educated the bookseller is the better it is for all. Rare book sellers should pursue improvement and deepening of the knowledge on rare books by attending courses, lectures and other educational events. Continuing education increases their proper and correct understanding of antiquarian books.
Appraisals and consultation: Usually rare book sellers and dealers provide appraisals and consultation to rare book collectors and other institutions as part of their services, whether for pay or complementary. This implies that they have the expertise and experience to help you in all aspects and provide you with professional advice.
Rare Books Online Sales: If the bookseller has an online site please make sure that the site provides all the details that will enable you to buy with confidence and that your purchase is guaranteed.
Finally, one should expect to pay a premium price through a seller that has adopted a number of the above listed tips/guidelines. It is the cost of the assurance that a buyer is willing to pay in order to be more comfortable with a purchase. Ideally a win-win situation develops when your purchase is made through a dealer that adopted the guidelines, at a discounted price, for a rare book that is very scarce. After all, antiquarian, collectible books are usually of limited seller availability.