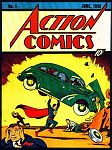 When people hear of super rare comics that are bought and sold at extremely high prices, they are convinced that these books are worth so much more because of their age.  A reasonable assumption considering that there is a significant correlation between scarcity and age.  Old age has a way of eating away at tangible assets that are not well-protected during their lifespan. A number of copies of a particular comic book printed several years back are likely to have been destroyed or lost, thus making a particular issue scarce. Pretty much any comic that is about twenty years old or more is actually worth a lot more than what it was bought for, solely due to the effect of age.
In determining how valuable a particular comic book copy is, more important factors than age are at play – "appearances" and "content".  For example, DC's detective comic issue 27, May 1939 marks Batman's first appearance.  In addition to a character's first appearance, an equally significant event is when a character makes an appearance in another character's comic space. These issues, called "crossovers" are unusual occurrences that are very collectible since a character from the same universe makes a guest appearance to another character's issue.  A third collectible feature is sometimes the printing of a comic cover that is distinctively different from the bulk of the issue's publication. These unique artwork covers are referred to as "variants" and again they are very rare.  The variants are occasionally included in a reseller's batch and offered to resellers as an incentive to push more volume. Even though they are offered at the same price they quickly get more pricy as they are less common.
Condition as with any rare book publication is critical as well. With comics condition is rated by degrees ranging from "mint" to "used". These ratings are very important in determining the price at which a particular copy is sold. Even if an old copy, with crossover appearance,  or variation is determined to be extremely rare, it will not reach its potential value if pages are falling off or torn or stained.
Publishers are also using special events as an excuse to bring out a limited edition that is scarce by limiting its availability.  For example, Spiderman released on September 2001 during the World Trade Center tragedy attack was limited to US distribution only. That issue's front cover was colored in black and it is considered today, just a few years after the event, very rare.
Oftentimes comic book series or miniseries with good content that are discontinued end up having continued interest and do eventually become very rare due to the demand vs. supply imbalance. Such series are Spawn: Godslayer and Batman Gates of Gotham.  Equally scarce are certain numbered issues in a running series that are considered a "hallmark" release. For example, Superman #666 which features the unique story of an evil Superman, or a comic book celebrating its 100th release,  or a 200th issue, or even years such as Iron Man's 75 year of publication and so on.
Finally, comic books that have unintentional flaws such an issue with a misprint or a page that was not printed properly may often be considered rare by some collectors. Signed by artists copies are naturally very desirable and quite expensive to acquire as well.
So next time you see a comic book shop, stop in and chat with the friendly stuff and learn which comic books may become rare in the future. Buy a few potential candidates; you never know how valuable they turn out to be down the road. You may very well end up with the next generation of Mile High/Edgar Church Ed. Action Comics #1.