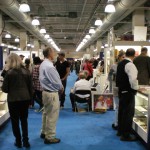 To a rare book collector, there is nothing so delightful as escaping to a local event for a day to closely examine and perhaps acquire some rare books. Attending two such events during the same day can quite possibly double the pleasure for some, while perhaps be a bit too overwhelming to others. I was able to experience that double dose of pleasure just last Saturday, when I had the unique privilege of visiting two enthralling book fairs in Boston. Each fair offered books to cure every literary craving and excite and inspire the human intellect.
As any rare book collector could testify, the harmoniously rejuvenating transformation took place just after entering the doors of the fair. Everywhere to be seen were booths laden with exquisite books in cases or on shelves, and the usually warm and hospitable smiles of the sellers who brought them to market. Indeed the most satisfying experience comes early on during the day when one is well rested and has not yet encountered book overload. (The sensation of having touched looked at and even smelled too many books).
My first stop led me to an aged brick building which housed massive brick Roman arches along each wall, an elaborate and grandiose wrought iron clock flanking an end, and glittering lights strewn across the room, which created a feeling of magic and whimsy. It was the location of the Boston Book, Print & Ephemera Show Park Plaza Castle, a show sponsored by the Professional Show Managers Association, with large concentration of sellers from the surrounding New England States. Browsing through the majority of booths, gave a taste of what is local to the region and attractive to the seasoned book collector.
The second fair which I treated myself to was different in that it was an international event. The Boston International Antiquarian Book Fair, now on its 35th year and exclusively open to ABAA (American Booksellers Association of America) members only. The event draws sellers from all over the world, including North America, Europe and Australia, exhibiting their scarce and unusual collections. Unique literary treasures, unusual bindings, signed and inscribed copies,  stunning works of art, and important documents and manuscripts were all amalgamated under one roof for this three-day event.
The atmosphere of the international fair was calm and serene, allowing the dedicated book collector to traverse among the books peacefully and at a leisurely pace, while the dealers stood ready to assist in any way possible. A bar with tables and chairs invited the weary collector to relax and reflect on the beauteous and exciting finds which the fair was simply brimming with. Soft blue carpet, soothing blue curtains, and hushed tones all added to the fair's ameliorative surroundings.
Visiting each fair allowed me to be immersed in two wondrous worlds that had one thing in common – wonderfully and exceptionally desirable rare books. To a book collector the experience of attending a rare book fair and personally observing all that such an event has to offer, is second to none. After attending two such events in the same day, I am pleased to report that it is a completely new level of experience. From the amazingly scarce and interesting rare books, to the fun atmosphere, the colorful book collecting crowd, the obliging booksellers, and the lovely ephemeral items, it is an experience that is certainly not easily forgotten.
At long last, exhausted but joyous at the end of the day, I stood still for a moment to reflect and ponder on all that had rushed visually, emotionally, intellectually through my system. I was tired but satisfied.  The "book full" weekend was not quite over yet. Next day was the Skinner fine books and manuscripts auction just a few blocks down the avenue.