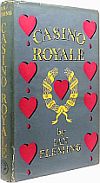 Have you ever wondered how an author becomes the writer of one of the rarest books of modern literature?  One thing for certain is that the author must be a pretty good writer and story teller to attract a large following and favorable critic. Limited publication can also help, but that usually is secondary.  A good book or series of books is the foundation for driving fame and recognition that brings big demand for the books that ultimately sell out, quickly bringing 2nd and 3rd printings, and more editions. A film production that is based on the book can also boost demand further, and the cycle repeats.
At the center stands the charismatic author that is able to write mega hits. Such successful authors are a rare species of their own, and often times are not able to recognize their gift until one day they decide, for one reason or another, to write a book; Casino Royale is one such example. Ian Fleming, better known for his James Bond 007 series of books, is a good example of a famous author who did find the right formula, but was slow in realizing his outstanding potential and ability. Once he discovered his gift, he proceeded to fill out 12 years of Bond with great adventure writing.
Ian Lancaster Fleming had the background that enabled the creation of the lovable character of James Bond:   A father who was a war hero in the Great War; prize winning athletic running in school that was cut short of graduation over an incident involving a girl; military academy experience that was deemed too "mechanized"  having violated its curfew rule; journalist experience with Reuters that focused on a spy trial in Russia; followed by a more formal attachment to the intelligence service, through Naval Intelligence, while off-work hours were occupied with bridge games, elaborate meals and indifferent romances;  and of course World War II  intelligence missions working behind German lines assisting Britain's top spymasters.
The war ended and Fleming was still not the famous author we all have since come to love. Lounging in the paradise of Jamaica during the winter months, he was still too busy romancing women and chasing the sunset. But at the age of 44 years old he became attached to a married woman that he dated who gave birth to a daughter by Fleming. It was finally time for Fleming to get to work and write the first draft of a novel, Casino Royale.
The first edition, first impression of Casino Royale is one of the most collectible modern first editions available. It was published in 1953, and copies with the dust-jacket in relatively good condition have been selling for more than $20,000. Ian Fleming's signed copies command twice that amount; quite an appreciation from the release price of 10 English shillings and six pence. The Jonathan Cape UK publisher first edition had a total of 4,728 copies printed that quickly sold out.  The second printing quickly followed the success of the first.
Ian Fleming's charismatic style and elegant arguments, plus his seemingly limitless knowledge of his subjects made the usually dry missives a pleasure to read. The incredible books that followed managed to sell over 100 million copies, and were adapted to film.  Unfortunately his legacy in creating incredible literary masterpieces was cut short, when he died suddenly at the relatively young age of 56.