In last year's posting titled – "Collectible Books on Books," a list containing some of the most collectible books themed after the practice of book collecting was published. It was put together by contributing book dealers specializing in the genre.  Included in the list were primers on bibliomania such as "A Gentle Madness" by Nicholas Basbanes, and biographies of book collectors/booksellers such as "Rosenbach" by Edwin Wolf II and John Fleming. These two books are generally viewed as the best on the topic.
Reader reaction has been overwhelming. It is quite natural to see how a large number of book collectors are also interested in stories about the book trade.  While we do have some close friends from academia, the majority of our readers are book lovers and book collectors.  As Rosenbach once said during the golden age of American collecting at the beginning of the 20th century, "It is a wonderful and magnificent thing that the gathering of books in this country is in the hands of leaders of her industries, the so-called business kings, and not in the hands of college professors and great scholars. It is paradoxical but true that not a single great library in the world has been formed by a great scholar."
Book sellers are attracted to these books by the valuable experiences and knowledge that they contain.  Story after story provides first hand instructions through circumstances once lived, complements of bibliomaniacs, knowledgeable collectors, legendary bookmen, enterprising scouts, and other book salesmen. Rosenbach, who between 1876 and 1952, bought at various auctions in England and America the majority of important books being offered and later sold for a huge profit, offered us  his advice – make every sale look like a favor. From the 1920s through the 1940s, he enticed collector Josiah Kirby Lilly, Jr., of Indianapolis to purchase a large number of his American literature and historical Americana collection from him. This relationship has shaped the contents of some of the greatest research libraries of this day.
Some of our readers thought that the list could be more complete through some more eclectic contributions, and suggested the following additional books on books:

Tolkien's Gown & Other Stories of Great Authors and Rare Books. Gekoski, Rick. London: Constable & Robinson Ltd, 2004. Enticing read of the author's many captivating episodes in discovering and selling wonderful association copies of books including Lolita, The Colossus, and Brideshead Revisited and literary manuscripts such as On the Road and Lord of the Flies.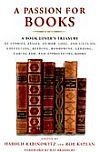 A Passion for Books: A Book Lover's Treasury of Stories, Essays, Humor, Lore, and Lists on Collecting, Reading, Borrowing, Lending, Caring For, and Appreciating Books. Rabinowitz, Harold and Rob Kaplan, Rob (Editors). Westminister, Maryland:Times Books, 1999. Featuring 50 essays by John Updike, Philip Roth, Anna Quindlen, Leo Rosten, and others,celebrating the exhilaration to be found in books.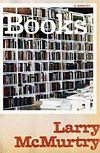 Books: A Memoir. McMurtry, Larry. New York: Simon & Schuster, 2008. As one of America's most prominent bookmen, holding a substantial used-book business in Archer, Texas that recently held the infamous "The Last Book Sale" shelf- lot auction sale, he still loves to read and maintain his own rare book collection consisting of approximately 28,000 volumes.
These are all fairly recent publications and their collectible first editions may still be found at reasonable prices. What makes them different from other book collectibles is that they do actually provide book collectors with an educational and captivating experience when read. Anyone interested in the used-book business that would like to learn more about the evolution of the rare-book world market may find that these are some of the most important companions to own. Take it from Larry McMurtry himself who, for the first twenty years of his career as a book hunter actually read almost all the books that he had gone through such trouble to find.