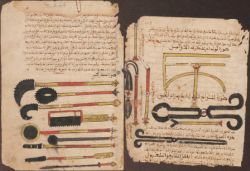 During the Golden Age of Islamic science, (750 to 1258 AD) European medical practice was influenced by the important contributions of Muslims such as Al-Razi "Rhazes" (d. 925), Abul Quasim Khalaf ibn al-Abbas al-Zahrawi  "Albucasis" (940 – 1013), Ibn Sina (d. 1037). Al-Zahrawi considered to be the father of modern surgery, diagnosed and treated many diseases especially those for women. He wrote a significant, multifaceted treatise, Kitab al-Tasrif liman 'ajiza 'an al-ta'lif (al-Tasrif), universally acknowledged within the medical community as the first illustrated textbook of surgery.
Existing al-Tasrif manuscripts reveal that the work which took more than 50 years of clinical research and practice, running into 40 manuscripts,  must have been completed around A.H. 400 (in Islamic years which is equivalent to 1009/1010 in Julian). It contains more than 200 illustrations and drawings of clinical and surgical instruments and devices, most of which were designed by Al-Zahrawi and some of them are still used today.
Al-Tasrif early translations were printed in Hebrew, Turkish, and Latin, with some variations and incomplete collations. Gerard of Cremona at Toledo translated the Latin variation printed in Venice in 1497 with the name Liber al-Sahrawide Chirugia. This translation by the most important language scholar at the Toledo school contains early miniature drawings of Al-Zahrawi's instructional writing and training on midwifery with scenes drawn in the twelfth century, Codex Series Nova 2641.
Johnnes Channing brought out an Arabic-Latin edition (Oxford 1778) that was based on two of Al-Zahrawi's manuscripts. These two Bodleian manuscripts are among the seven manuscripts used by Dr. G. L. Lewis in his critical edition:  Albucasis: On surgery and instruments published by Wellcome Institute of the History of Medicine; London: 1973. A more comprehensive account that includes 40 of the manuscripts (includes the seven used by Lewis), was jointly published by Dr. Spink and Dr. G. Sonnedecker in the book A pharmaceutical view of Abulcasis al-Zahrawi in Moorish Spain (Leiden, 1963).
Another edition containing stylized figures is the lithographed Arabic edition of treatise XXX (Lucknow 1908). This particular edition was among the textbooks on surgery used by students of Tibb Unani School established by physician Maulaui Muhammad 'Abd al-'Aziz Ibn Muhammad Isma'il of Lucknow, owner of one of al-Zahrawi's manuscripts. Plates can also be seen in Dr. Salah al-Din al-Munajjid's Le manuscript arabe jusqu'au x siècle de l'H, Cairo: 1960, as well as in the French translation, La Chirurgie d'Albucasis, by Lucien Leclerc; Paris: 1961.
The complete offering for collectors of medical books interested in aspects of al-Zahrawi's enduring legacy in medicine and surgery are listed below: