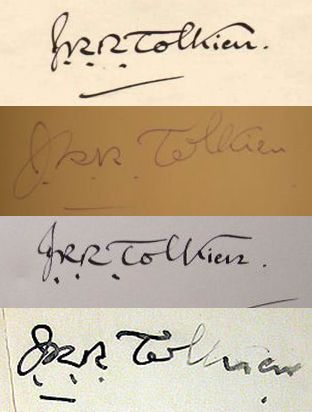 As there has been an unfortunate increase in the number of forged signatures over the last few years, I have cut back my purchasing of rare books that are signed by their authors and are not guaranteed to be genuine. The following guidelines that I have collected from a variety of sources have proven to be extremely helpful and equally as effective, if not better than hiring an authentication service:
1. Dead or alive. I am more likely to buy a signed book by an author that is still with us today, since the ultimate genuine signature is to witness the author sign the book in front of my very own eyes at a book signing event.  Track records show that signed copy frauds are more prevalent with deceased authors. It is also a good idea while attending one of these events to ask the signee for the inclusion of the date as signatures tend to vary throughout an author's lifetime.
2. Limited editions. Numbered limited editions are also a pretty safe purchase since such books usually carry additional unique and distinct features, such as  copy numbers, authenticity stamps and so forth.
3. Inscribed not signed. Frauds are less likely to fake a lengthy inscription and would rather forge a signature or trace a short inscription in order to make an autograph look a bit more legitimate, (their favorite is 'Best wishes'). It also takes more skill and effort, to produce a greater number of words that can pass as original. Furthermore, market valuations favor signed books over inscriptions to someone unimportant, so there is less of an incentive to put the extra energy into the criminal act.
4. Author discrimination. I keep away from names that are very popular with books that are quite scarce and yet easier to find signed in the marketplace. From the most frequent victims – Ernest Hemingway, T.S. Eliot, John Steinbeck, F. Scott Fitzgerald, Mark Twain, William Faulkner;  to the up and coming – Truman Capote, James Michener, Norman Mailer, Tom Clancy, Maya Angelou, Jack Kerouac, J.R. Tolkien, Howard Phillips Lovecraft, Stephen King, Edgar Rice Burroughs, Thomas Pynchon and Ray Bradbury. Tolkien for example, did not autograph many books and he most definitely did not sign any US editions. Kerouac was not a very prolific signer of his books and Pynchon almost never signs anything.  On the opposite side, Harper Lee autographed copies of To Kill a Mockingbird for years after it was first published in 1960. If you are planning on purchasing a signed book by J.K. Rowling which was published prior to 2007, you will not have the guarantee offered by the hologram of authenticity that she has adopted on all her signed books since then.
5. Raw material examination. Any autograph before 1960 will be in pencil or ink pen since the felt tip pens, sharpies, paint pens and so forth are products of the 60's and onward. Forgers prefer using a paint pen because it hides the writer's fatigue associated with copying or tracing an autograph.
6. Condition, condition, condition. Desirability & collectability are greatly affected by the condition a particular copy is showing. Now I have one more reason to avoid books that are in bad shape – forgeries are in less than perfect condition most of the time, because in order to maximize profits, the less desirable, cheaper copies are being used.
7. "Flat-signed" plus provenance. I never buy a signature-only or "flat-signed" book without adequate provenance provided by the seller.  The most definite type of signature to avoid is the one that appears on an adhesive-backed label bearing the autograph especially in the high end book market. The forger has more than one chance to get it right practicing on a label that can be affixed to the front free paper.
There you have it,  common sense plus a bit of insight, the golden rules for avoiding becoming a victim of a rare book forgery. I cannot stress enough the fact that these are only guidelines for assisting in making the right purchase when it comes to signed books.  Many organizations and dealers are exploiting these unfortunate market deficiencies to suggest that you should strictly make your purchases through dealers that are fully registered with them since they only sponsor dealers that sell authentic material. This is false advertising and the best way to avoid falling a victim to such market pressures is by doing your research for each and every autographed copy that you purchase no matter who the seller is.