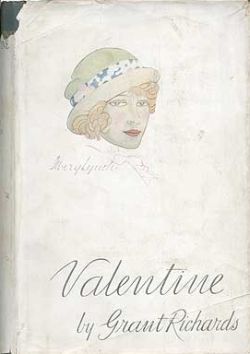 So many people read romance novels these days that it is hard to accept the mediocre performance that the genre exhibited in our rare book index – Rare Book Sales Monitor, over the last year. This trend was recorded primarily through sales of modern romance editions that lag behind the corresponding romance classics. The most sought-after romantic novels are, for the most part, classics written by famous authors such as the scarce editions of William Shakespeare's Romeo and Juliet or Jane Austen's Sense and Sensibility. Such high spots, and others similar, crossed over the "buyer opportunity" stage around the middle of last century with tremendous price appreciation that put them out of reach for most rare romance collectors.
Precisely because romance, love, and passion, varies from person to person, appreciation of such literature particularly modern romance literature tends to vary as well. Bibliophilistic speaking, old-fashioned romance novels from the beginning of the 20th century do tend to turn me on. I love some of the early works published in London by Grant Richards. One of England's most prominent publishers, he is perhaps most famous for publishing, James Joyce's first short story collection- Dubliners (1914), which does not quite fit into this romance theme. Richards' ability to detect literary talent, contributed to the development of the British and international book business of the early twentieth century with published works by George Bernard Shaw, Alfred Edward Housman, Jack Kahane, Frank Harris, Richard la Gallienne and many more.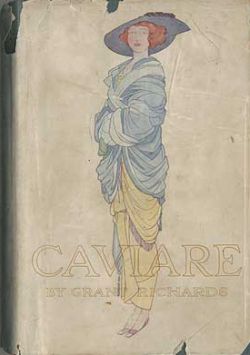 Richards was also a novelist. His first three novels: Caviare (1912), Valentine (1913) and Bittersweet (1915), capture the essence of romance – seeking love, fine food, fine wine and Paris. Well, there is a bit of London life and the building of an empire in the mix also, but they are just supporting his interesting plots. The following excerpt from "Bittersweet" captures the essence:
….Getting back to bed he wrote at once:
"MY DEAR ILLONA: It is such a beautiful day that I think you and I ought both of us to make the most of it. You say you like motoring. Won't you come out with me? I'm going to mark this letter 'urgent' so that it may reach you at once. Forgive me, please, if you wanted to go on sleeping. But what I thought was that we might motor up to La Chambotte. My guide-book says it's a 'site ravissant,' whatever that may mean, and we can lunch there-if only you'll be ready to start at twelve o'clock. You've got time, you know! But perhaps your English friend has found you and you're engaged. I hope not though. We'd meet at the station-a la gare-at 12.5. Please send me an answer by the bearer, Yours very "-how should he end?- "Yours very sincerely,
                                                                                                                                  "G. BLUNDELL."  
……
"Like-that's a poor word. What French word would you use?"
"How do you mean? Je vous aime, I think."
"Yes, that's what I meant. But 'Je vous aime' is nothing. Vous aimez the motor-car or the mountains. Je vous aime, but I like also the waiter who brings me my breakfast; j'aime this chauffeur."
Illona burst into laughter. "Oh, you do amuse me. What would you have me say? Je t'aime?" She laughed again. "No that would be too much-too much for to-day…..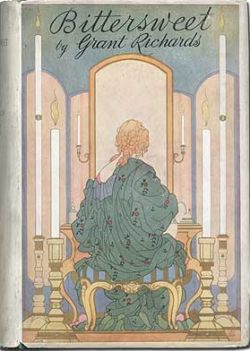 Grant Richards is master of the exact word, the apt phrase. His stories are also "very English" with a good knowledge of London life and a "foreign air." A strong believer in international marriage he was first married to Elisina Palamidessi de Castelvecchio (later Elisina Tyler), great-great-granddaughter of Napoleon's brother Louis, and after to his second wife Maria Magdalena de Csanády (later Marie Madeleine Agnes Richards). Some of the scarce first editions of these books surviving contain Richards's inscription to his wife Madeleine. Copies having the beautiful dust jackets are also quite scarce but still reasonably priced with ample expressions of love printed inside.