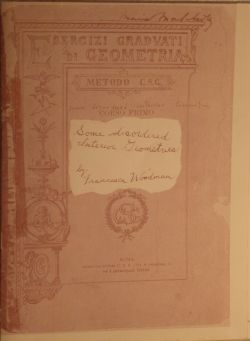 American photographer Francesca Woodman started making photographs when she was 13 years old and had a working span of eight and a half years before her death at the age of 22, in 1981. Her suicide came a few days after the release of the only artist's book to get published during her lifetime – "Some Disordered Interior Geometries." She was unknown at the time.
It was not until 1986 that her photographic work was introduced by Ann Garbor, director of the Wellesley College Museum, in collaboration with Professor Rosalind Krauss of Hunter College and critic Abigail Solomon-Godeau. This Wellesley – Hunter 1986 first exhibition produced a catalog of the work that was on display titled – "Francesca Woodman Photographic Work."
In recent years, art historians revived interest in her work and identified Woodman as incredibly original and one of the great photographers of the 20th century. Art dealers promoted her work at the Pace/MacGill Gallery show in 1994 and more recent at the esteemed Marian Goodman Gallery in New York and Victoria Miro Gallery in London. Woodman's work is now featured in major museums including the Metropolitan Museum of Art, Whitney Museum of American Art, the New York Museum of Modern Art, Detroit Institute of Arts, Museum of Contemporary Art in Chicago and Tate/National Galleries of Scotland. In 2011 the San Francisco Museum of Modern Art held a large exhibit that included the original "Some Disordered Interior Geometries," and later transferred to the Guggenheim Museum.
The original artist's book consists of purple-pink covers and 24 pages, some of which seem to vary slightly in color with traces of pink. They were created by Woodman from a selection of pages from an Italian antique geometry exercise notebook entitled "Esercizi Graduati di Geometria," while studying abroad in Rome. On the acid brown deteriorating pages she had superimposed 16 photographs, added handwritten pencil notes, glue stains, and blobs of white correction fluid over ink and arcane mathematical formulae.
In the book, the artist enigmatically pushes photography beyond just a snapshot in time and conveys a vision of reality governed by irrational and unknowable forces. According to Jane M. Blocker, Professor of Contemporary Art and Theory at the Department of Art History University of Minnesota, Woodman uses the camera to effortlessly transcend time with objects and space that appear to present an effect analogous to "Alice in Wonderland". Moving from left to right in the images below, the text reads "These things arrived from my grandmother they make me think where I fit in the odd geometry of time…" Objects include rabbit ears; a cat; an antique mirror; her body wearing a lace top, naked from the waist down. Larger in the forefront (image to the left) and then smaller on top of the mirror (image to the right) as more objects spill out of grandmother's case.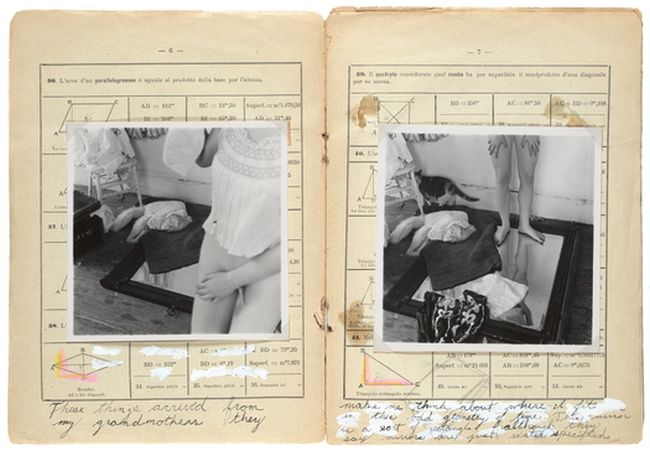 Woodman's predominantly unique style of using herself in front of the camera, as both subject and object in artistic, surreal photography, branded her as the last of the great Modernist photographers with 20th century "new vision". George Baker, associate professor of art history at the University of California, Los Angeles, observed in a number of her images a technique used where she turned the camera against the geometry of the room by arranging and shooting her body into the corner of the architectural space. Using body folds, she endlessly explored a model where zigzag and V-shaped geometric forms connect with the architecture to produce the image.
The scarce published facsimile of "Some Disordered Interior Geometries," has purple-pink covers and interior pages printed using only black, white, and shades of gray. It is listed in the Online Computer Library Center database with 12 libraries holding the book in special collections. Synapse, n.d., the publisher, returned 450 from the total release of 500 to the artist's family who distributed most of them as a tribute at the funeral. In 2013 a copy sold on Abebooks for $17,500.
Judging from the exponential growth of Woodman's fame and influence, it is expected that "Some Disordered Interior Geometries" and other of her sought after works will continue to increase in value. The scarcity of the book and the significance of being the only publication to be published during her lifetime are big factors in attracting collector interest. Even though she produced her images in relatively recent times, the introduction of digital photography has altered the topology of photographic art immensely. Expect much greater appreciation as art historians, critics and collectors cease to speculate about what she would have gone on to produce if she were still alive and be grateful for what she did produce.