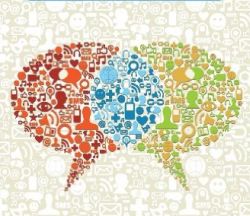 Based on an analysis of the interaction we have received over the last two years, on our public-facing social media: Linked-In, Twitter, Facebook, Google+, blog comments and Pinterest, we have prepared the Static Four Quadrant chart exhibited below.
Data received through Facebook and Twitter is the primary source of standard follower activity (y-axis), whereas social data from Linked-In groups' comments, links, and Pinterest act as differentiators (x-axis). In addition, data is being collected, measured and analyzed through interactions among our readers on the topics and ideas that are posted on this blog. The four quadrants are thus identified as Likes, Follows, Comments/Pins, and Mentions/Links.
The selection of the book genre to exhibit is based on the categorization of the postings that appear on the blog during a particular timeframe. The size of the globe for each genre is directly proportional to the number of postings that the genre received during the period analyzed.
While we realize that social analytics have limitations regarding the ability to identify all sentiments of a particular audience, the interpretations of this exercise are left to an individual's abilities to elucidate.
A separate group of analytical information collected outside the direct social media interaction of likes, follows, tweets, mentions, and links consists of page views, time on post, geolocations, keyword-level sentiments, etc. Such information is not part of this analysis. In fact, this type of non-voluntarily submitted data information is in violation of privacy code of conduct. Unlike social media data, browsing information collected by online publishers and advertisers through visitor search terms entered, is primarily used to serve appropriately targeted ads and ultimately gather ad revenue.
We are in compliance with the Electronic Frontier Foundation (EFF) privacy proposal by not tracking visitors who had enabled the "Do Not Track" setting on their browsers. We are also not using AdChoices which is driven through such user browser tracking practices.
Perhaps presenting social media readings from postings such as this, may provide a strong enough signal to suggest that returning voluntarily submitted information back to our audience is of liking, worth mentioning and closely followed.