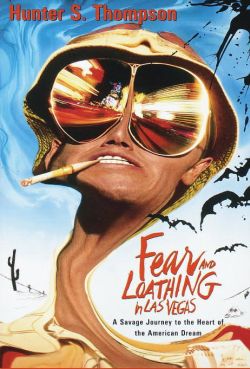 Here is a question for all Hunter Thompson collectors out there: If you had to choose between being the proud owner of Thompson's first or second book which would you choose? The choice, of course, is between Thompson's famous 1967 Hell's Angels: A Strange and Terrible Saga of the Outlaw Motorcycle Gangs or the 1971 Fear and Loathing in Las Vegas: A Savage Journey to the Heart of the American Dream. Both books are very collectible and popular among the Baby Boomer generation.
Before you answer the question though, here is a bit of background information to help you decide:
Mr. Thompson, was born in Louisville Kentucky, but actually built his reputation as an eccentric journalist in upstate New York. Like a modern-day blogger, he expressed his personal beliefs with a mixture of truths and fiction. In his own words "….you have to know the material you're writing about before you alter it," He appealed to the generation that protested the Vietnam War and saw the cynicism in the Watergate political scandal. This is the same generation that was known for its care-free purchasing habits but later later switched its attention to issues such as property taxes and social security. These are the same folks that brought us the slogan "sex, drugs and rock 'n' roll."
In researching Hell's Angels, Thompson spent more than a year travelling with motorcycle gangs before gifting the American nation with a book full of tongue lashing because they created villains out of what he ultimately concluded to be more pathetic than fearsome. In Fear and Loathing in Las Vegas, he describes the adventures of Raoul and his lawyer Dr. Gonzo Duke, as they take "a saving journey to the heart of the American Dream" in a convertible loaded up with drugs. They go out of their way to degrade, abuse, and destroy symbols of American consumerism and excess, within the city that symbolizes the coarse ugliness of mainstream American culture – Las Vegas.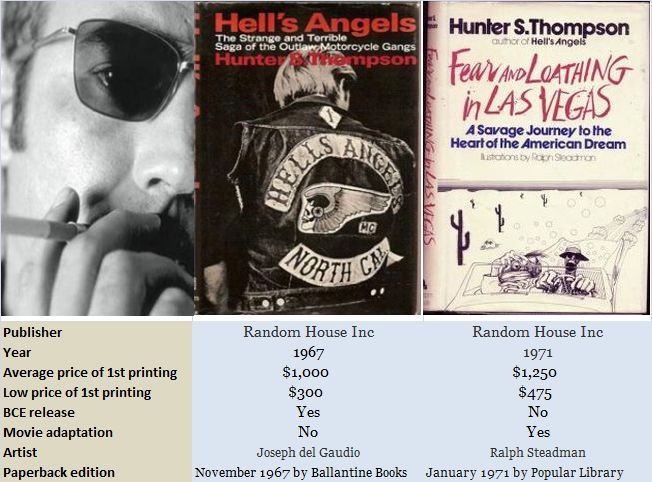 The book that portrays Thompson's best self-image and skills in writing is ultimately what collector's are hunting for. His work has presaged modern-day journalism in an evolutionary way. Naming himself "a foulmouthed outlaw journalist" may seem like a joke at first, but it conveys the erratic behavior that depicts the restless failure his generation feels. Unlike most fiction, Thompson, did not have to rely on an omniscient or third person narrator. His writing was right on the edge of where journalism and literature meet.
From the beginning of the Hell's Angels narrative, Thompson included himself as part of the story via a first-person narrative, a style that became known as gonzo journalism. Another important aspect of gonzo is the blending of personal beliefs with truth's accuracy, without being ruled fictional. Thompson himself first used the term on page twelve in Fear and Loathing : "But what was the story? Nobody had bothered to say. So we would have to drum it up on our own. Free Enterprise. The American Dream. Horatio Alger gone mad on drugs in Las Vegas. Do it now: pure Gonzo journalism."
Now back to our question: As a collector of important works of a pioneer in journalistic literature, which book would you rather own? The first introduction of what came to be known as "angry, knowledgeable writing" or a novel that solidified the foundation of "Gonzo Journalism?" If you are like me, you are probably as excited to own either one of them, but strictly financially speaking, you are willing to settle for one of the more affordable obscenity-laced publications by this counterculture social critic.