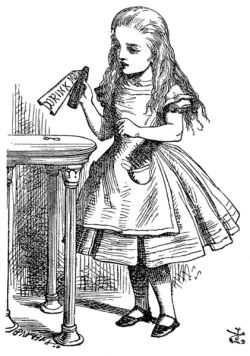 Printed books usually sit around, demanding very little to survive. Water, mold, smoke, dirt, direct sunlight, insects, bad shelving, fire, human misuse are enemies to avoid for a healthy long life that guarantees a book to outlive its creators. Long lifespan coupled with popularity, may lead to production of multiple new editions, revisions, foreign language translations and artistic renditions. This year marks the 150th anniversary of Lewis Carroll's 1865 classic "Alice's Adventures in Wonderland," a fine example of such a long, fertile life!
So far, the book has inspired artists, writers, filmmakers, and even web and game designers in three centuries! Some of these original drawings and letters, rare editions, vintage photographs, and fascinating objects, joined the original manuscript that traveled from its home at the British Library of London to New York's Morgan Library & Museum, to an exhibit currently underway through October 12, 2015.
The work which has been extremely popular and inspiring worldwide is also very tempting to rare book collectors through a variety of 'Alice' collectibles. The scarce first edition that appeared in 1865 as Alice's Adventures in Wonderland with the iconic illustrations of Sir John Tenniel, was quickly suppressed by Tenniel, who was dissatisfied with its printing quality. Now, only twenty-two copies of this edition are known to have survived. Martin Gardner, one of the world's leading authorities on Lewis Carroll, recounts the curious collaboration between author and artist in Carroll's own words:
'Mr. Tenniel is the only artist, who has drawn for me, who has resolutely refused to use a model, and declared he no more need one than I should need a multiplication table to work a mathematical problem! I venture to think that he was mistaken and that for want of a model, he drew several pictures of 'Alice' entirely out of proportion — head decidedly too large and feet decidedly too small.' [1]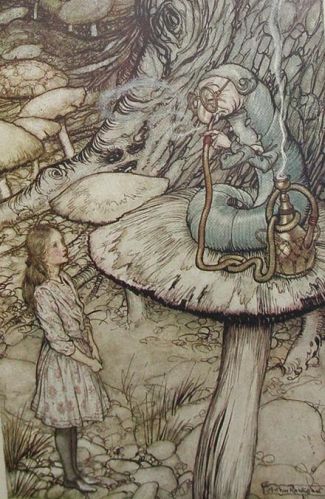 And so, the imaginations of artists throughout the world expanded exponentially. From Lewis Carroll's own pen and ink drawings in the original manuscript, to the first edition drawings of John Tenniel, followed by English book illustrators Arthur Rackham and Harry Rountree, during the very beginning of the 20th century. Rackham's first edition 'Alice', London: William Heinemann, & New York: Doubleday, Page & Co., 1907, has 13 full page color illustrations and was first released with 1,130 copies, 30 of which designated as presentation copies. Depending on condition, expect to find this children's favorite selling well above $1,000.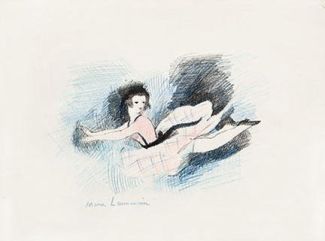 In 1930, Black Sun Press and Marie Laurencin put out an unusual Art Deco version with six original color lithographs, signed in the plate by the artist and produced from a set of colored pastel drawings. The total production consisting of 720 copies, 50 of which were printed on Japan paper, are selling for about $5,000.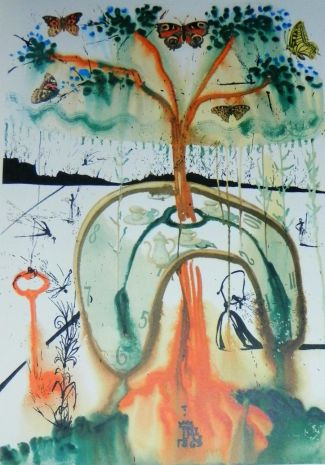 Two surrealist contributions with incredible interpretations that generated a great deal of collector interest include an offering from the master of Surrealism himself, Salvador Dali. New York: Maecenas Press-Random House, 1969; 2500 copies with twelve color lithographs and an etching, is selling for around $10,000. The more recent "Alice au pays des merveilles – de l'autre côte du miroir," Paris: Diane de Selliers, 2006; illustrated by Pat Andrea, double volume in slipcase with 100 copies, in a limited edition that contain signed full-page pencil-drawings, is selling for $1,000.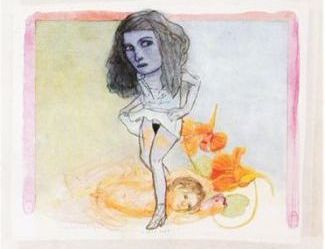 Since she stepped out of the Victorian era and the underground, Alice is destined to continue to travel through the polymorphism of infinity, and is bound to keep inspiring the imagination of artists worldwide. Child-woman, half-nymphet, half pin-up girl, ingenuous and fearless, shrewd and talkative, Alice makes friends from all generations that have appeared since her created existence, and is certain to make more from generations to come.
1. Martin Gardner, "The Annotated Alice: The definitive Edition,"  (New York: W.W. Norton & Company, Nov.17, 1999)