Salvador Felipe Jacinto Dalí i Domènech (1904-1989), better known as Salvador Dali, is one of the most famous and popular artists of the twentieth century.  His artistic nature is captured in paintings, sculptures, plays, films, photographs, costumes and, of course, rare books.
The mustachioed master of Surrealism was criticized and abandoned by the art establishment in the years after 1940, when he departed the Surrealists' circles, embraced the Catholic faith and declared himself an Old Master-style classicist. Art aficionados of the time, and for most of the last five decades of his life, criticized him for designing jewelry and collaborating with Walt Disney.  They narrowly formed the opinion that the artist did not paint anything good anymore, and refused to accept his move to broaden into Pop.
During recent years, as the art buyers began scouring for undervalued work, Dali's more recent works began to shine. The average auction prices for his paintings rose from around $100,000 seven years ago, to over $1 million, according to Art Research Technologies. At last, Dali's work is gaining the acceptance of all kinds of art lovers including book collectors.
Dali's decorated books, for the most part, were published after his switchover to Pop in the 1940's.  His art is featured in numerous art books from a great number of publishers, and it appeared on dust jackets as well as inside illustrated content in numerous popular titles. The most collectible of his books are the suites of lithographic collections that serve the purpose of circulating a limited number of prints. The majority of such publications have only a few hundred copies in total, and are extremely scarce. Moreover, a lot of the galleries that acquired such formats, broke them up and sold them as individual prints adding to the scarcity of the publication. The following is a selection of rare books issued with the number of copies exceeding 999: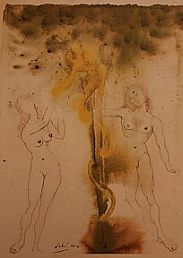 Biblia Sacra was published in 1969 by Rizzoli of Rome.  It consists of 105 lithographs from original gouaches, it is printed in 5 volumes on handmade paper; size is 19 x 13 3/4″, signed,  and watermarked. The total number of copies from the "Magni Luxus" edition  is 1677. More recently in 2011, a copy was sold at a Christie's auction at the bargain price of $11,687. Dali spent six years (1963-69) creating the original gouaches for the book. This lengthy project was an artistic, as well as intensely spiritual exercise, to explore and return to the Catholic faith; the vibrant lithographs, infused with imagination and devotion, are the result of this pilgrimage.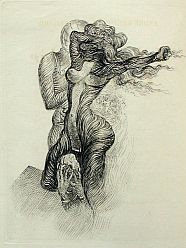 L'Immaculee Conception Andre Breton and Paul Eluard, Edition Surrealistes, Paris, 1930. Going back to the artist's surreal fame days with one etching on the frontispiece, sized at 7 7/8 x 6 1/8". Even though the total number of copies issued is 2116, only the first 111 contain the frontispiece etching.  This is a fine example of Dali's earlier traditional type of work, which balanced surrealist mysticism with renaissance rigor.
Romeo e Julia, published in 1975 by Rizzoli Ed., Milano. The book contains a set of 10 off-set lithographs on heavy paper, with 99 pages of bound text contained in a red/burgundy silk slipcase. The sheets have full margins, with an image size of 15 7/8 x 11 ¾". The photolithographs are signed by Dali, and are also signed in the plate as well as watermarked with a blind stamp of Dali's signature. The total number of copies issued is 1,000 and they are unnumbered.
Fortunately for book lovers and Dali fans, there is a tremendous amount of published work for every taste to enjoy. The Dali rare book collector is also likely to benefit from the availability of some of these works despite the artist's international popularity that spans multiple generations.