A modern first edition's value is very much dependant on its dust jacket (dust wrapper or dust cover.)  A very desirable copy should not only come in its original dust jacket, but the condition of its wrapper should be in relatively mint condition. The dust cover consists of the detachable outer covers usually decorated with attractive illustrations, and folded flaps that hold it together and provide printed author biographical information or a blurb (a publisher outline of some kind.)  Rare book collectors look for authenticity and minimal wear, tears, stains, cuts or writing inside or outside the jacket.
Book wrappers have been around since the early 19th century when they were used more like a means to enfold the book completely, like a parcel. Wax was sometimes used to seal the wrapper around the book, forming perfectly matching pointed creases at the edges where the paper folded around the book. Surviving pre-1920 jackets add some additional value to the book they cover and, in some cases, can be worth much more than the book itself. The dust jacket's use significantly increased after 1920, when publishers used them as decorations with artistic designs and styles. Collectors seeking the most rare finds helped push prices higher with some reaching to astronomical heights. The most famous example is the jacket on the first edition of The Great Gatsby by F. Scott Fitzgerald, published in 1925.
When the same book's value is 100 times more when covered in its original dust jacket, forgery can become a problem and a concern for the buyer. Here are a few examples of common criminal practices:
1)      Original dust jacket replaced with one from a later printing.
2)      Use of a facsimile jacket or a restored jacket without a detail explanation.
3)      Reprints misrepresented as originals.
How then, does a collector avoid falling victim to one of these practices?
1. Be an educated collector. Let me give you a case in point: If you specialize in first editions from the 1920's, chances are that you are familiar with the unique indicator of the first issue of the The Great Gatsby's dust jacket – the "j" in Jay Gatsby on the rear panel was printed in lower case, and carefully hand-corrected in ink to upper-case by the publisher. No uncorrected copies are known to exist. In the second issue of the dust jacket the "J" was corrected. Needless to say, if you come across a copy without the corrected "j" in the back, then you are looking at a reprint of some kind.
2. Paper that looks too new for its age usually is too new for its age. Look for signs of non-uniformity in color for authenticity, especially at the edges. Look for signs of wear at the creases that are part of the paper material and not one achieved through reproduction. Look at any of the white spaces of the dust jacket for age toning or soiling. Ultra violet rays are harmful to paper, and they quickly cause discoloration or sunning that may be older than a few years of age.
A serious collector relies on magnification to examine the printing closely. Older original dust jackets were printed by lithographic printing, which presses ink directly to the paper and produces fuzzy, uniform patterns, especially at the edges. Under a magnifier some will look more like lines and dashes, and have coarser dots.  A facsimile copy, on the other hand, will display more well-defined color separation, and the dots which are much smaller appear random. The best ink jet printers can produce images having over eight million dots within a square inch.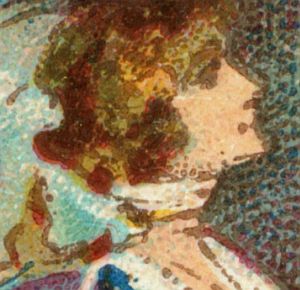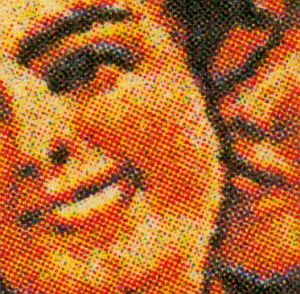 < Lithographic offset presses ink directly to the paper and produces fuzzy, uniform patterns, especially at the edges.
Facsimile reproductions> with smaller random dots and more rigid color separation.
As the printing industry continues to adopt more advanced digital technology, the differentiation between the old chromolithography and forms of digital reproductions are probably going to converge further.  An indigo print for example, looks slightly different from offset lithography, with dots that are large and fuzzy, and thus more like offset lithography than inkjet printing. At the same time dust jackets from later printings "married" to first edition, first printing books may go unnoticed for in cases of less important collectibles. If no one is able to tell the difference, should any one even care?