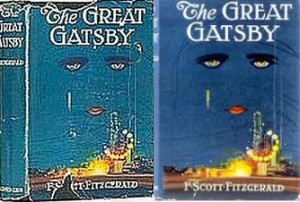 Sotheby's sold Fitzgerald's masterpiece The Great Gatsby New York: Charles Scribner's Sons, 1925, at an auction last month for $377,000 including buyer premium. The lot was traded at the high end of the estimated value, signifying the fact that rare book investors and collectors will pay premium prices to acquire top quality books.  This particular copy is not just a first edition, first issue with its original scarce dust jacket, but additionally, it had not undergone any restoration of any kind. Untouched copies without significant chipping and loss to the edition that was published with a slightly taller size jacket are a rare species indeed!
It is quite common for high spots of modern first editions, as well as older binding collectibles to have some type of restoration work done.  From the minimal repair of a torn leaf or removal of a simple stain, to the complete rehabilitation and refinishing of the dust jacket and binding, the spectrum of restoration work applied varies significantly.  Professional practices include de-acidification, alkaline buffering, resizing, washing, re-sewing, filling in missing parts, replacement of papers and boards, and sometimes complete replacement of the original covers and wrappers.
As the Sotheby's auction of The Great Gatsby proved last month, any type of restoration can have a negative effect on value, especially when a poor job or even an average one is performed.  In most cases however, where a high spot is in bad shape, restoration actually has a positive effect on its value, unless the book is in fact considered to be an artifact. In such case, preservation rather than restoration is more appropriate.
Deciding whether to restore a particular volume is a relatively straight forward undertaking. A good rule of thumb is to check the extent to which the following criteria are satisfied:
The book is considered to be a collectible high spot.
The book is showing significant loss to its cover and or content.
The workmanship of the restorer is guaranteed to be above average.
The cost of restoration is significantly less than any appreciation in value due to restoration.
For the buyer looking to purchase a volume that had some restoration done, however, the task of assessing the effect of the restoration may not be as straight forward. Beginning with the fact that no two books are ever alike, the task is further complicated by assessing the identification and quality of the restoration to damaged areas of the book. In a way, it includes an assessment based on measuring the precise accuracy of the restored parts to the original publication condition; a task that is impossible without the luxury of having access to the original, in order to compare and contrast.
Complete replacement of a binding or a dust jacket is, for the most part, easier to evaluate and sometimes difficult to detect. A skilled bookbinder can often create a binding that will pass for the original.  Replica bindings utilizing period material and archival inks can be made to look close to the original. Moreover, high quality facsimile dust jackets appear to be original even to the trained eye, and are not easily revealed unless exposed under magnification. Particularly, with older jackets printed with offset lithography and not so much with those published in recent years, facsimiles using ink jet printing can easily be identified with the help of a pocket microscope. Needless to say, any valuable offered for sale should be accompanied by a record of treatment disclosing details on restoration work at all times.
More importantly, restoration is crucial to preservation and posterity. Much fewer rare books would exist today if not for restoration applied at some point during their long life spans. If the work performed happens to also be of high quality, and has clearly enhanced the work in complementing and preserving the style and condition of the original volume, then it's a win-win situation. Value appreciation in such cases comes unnaturally, one may ponder to argue.