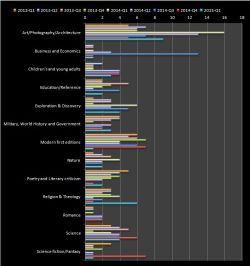 How exciting to investors could the introduction of a mutual fund that invests solely in rare books be? Before you rule that everything about it is controversial, consider this: The mutual fund industry has embraced alternative investing 1 sixty plus years later from the time that Harry Markowitz conducted his breakthrough research on portfolio theory based on the simple concept of maximizing profit while minimizing risk. Similar to the way mutual funds made owning stocks and bonds more accessible to smaller investors, alternatives brought hedge-fund strategies within the reach of smaller investors. So why is a fund that invests in rare books such a radical idea?
Perhaps the most striking skepticism that collectible rare book investors have is due to the illiquidity of tangible assets. Historically, the rare books marketplace has exhibited a rather "slow but steady" path to value appreciation without the volatility that today's stock market is famous for. Mutual fund investors expect to have the ability to trade, whether buying or selling, at the price they are told the asset is worth, on any given trading day. In other words, provide liquidity at the expense of volatility. In today's prevailing stock market conditions, the majority of investors are perhaps more likely to choose less volatility with a market that is "slow but steady."
A fairly new development aiming to ease liquidity concerns associated with alternative investments, allows for one fund to borrow cash from another fund after receiving approval from the SEC. According to Barron's, 14 firms – including Vanguard, Fidelity, Dodge & Cox, Ivy and Alger, have received approval to make such interfund loans. BlackRock and Lord Abbett filed their own applications for approval before the end of 2015.
Investors may also have transparency concerns. A rare book is, by nature, a unique heterogeneous collectible that may offer no comparables or substitutes. How does an investor know that the price approximations employed are accurately reflecting its fair value, without a prior trade to record a sale price? It is important to realize that even the most commonly used indexes, such as the Nasdaq Composite and the Consumer Price Index (CPI), are rough approximations of measuring real value. The CPI for example, is tracking the homeownership component, by estimating what homeowners would pay themselves, if they were renting from themselves, by finding comparable homes being rented; an imperfect process to say the least. When the Nasdaq Composite hit its nominal high in April of 2015, it took approximations to figure out whether in fact, that was also the time that it reached its real high, which takes into consideration inflation. Given that the approximations of the CPI measurement are the ingredients being used to factor in inflation, the real value appreciation may not be accurate.
As much as the CPI and other indexes are in need of improvement, they serve their purpose as very rough approximations of overall price change. Our Rare Book Sale Monitor (RBSM), the index that provides a rough approximation of the overall rare book marketplace's value, is constantly being challenged to improve on the following outcomes:
Appropriateness of type of information provided.
Accuracy of data.
Timeliness of reporting.
Adequate level of detail.
Organization and depth of analysis.
While the genre/author breakdown has been static, the books that are being monitored are frequently being switched. This is due to the unique nature of rare books and the fact that they may be irreplaceable. Many times, the frequently traded collections being tracked, reach a point of extreme scarcity and increasing demand, thus driving the ask price too high for a trade to take place. Such reporting exceptions require corrective action which requires substituting the now scarce item with a comparable item that is more frequently traded within the same genre/author grouping.
Authors are more likely to be completely replaced once the activity of their offerings reaches a level of inactivity that fails to record a statistically significant number of trades. Back in the 3rd Quarter of 2012, it was necessary to substitute Jonathan Swift with Ian Fleming, due to lack of trading activity in the case of the former.
The specific attributes of a unique book can affect not only its value but its marketability. For example, an inscription by the author to a well known personality, or (what is known as an association copy), is bound to command a premium because of its uniqueness. Hiking the ask price considerably may and does reduce its marketability. Again, a situation of no trade recorded, offers no data to the Rare Book Sale Monitor to process.
The sample of titles in use by the Rare Book sale Monitor is the key component to the appropriateness of the type of information provided. Last quarter we provided a list of leaders and laggards with future projections for the months ahead.
1Wikipedia: An alternative investment is an investment in asset classes other than stocks, bonds, and cash. The term is a relatively loose one and includes tangible assets such as precious metals, art, wine, antiques, coins, stamps, real estate, commodities.