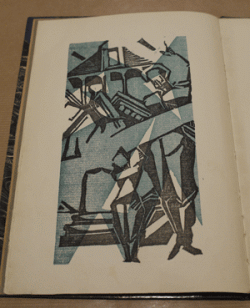 While critics of German Chancellor Angela Merkel are becoming increasingly vocal against her open-door policy that allowed 1.1 million migrants to enter Germany last year, history may be on her side. A century ago in the middle of World War I, immigrant artists from all over Europe, energized by a sense of outrage against the war, settled in the safety of Swiss Zurich and helped start the Dada movement. The first Dadaist performance was staged on February 5th 1916 at the Cabaret Voltaire, which is presently hosting a centennial celebration tomorrow, February 5th, 2016.
As part of the 100th year anniversary, the bookseller's fair at the Kunsthaus Zurich, is dedicating this year's 21 Antiquarian Fair to 100 Jahre Dada Zürich. New York's Museum of Modern Art will also feature a special exhibit, Dadaglobe Reconstructed, this summer, after its debut at Kunsthaus Zurich, this month. Zurich's Dada celebration will continue through the year with the Manifesta 11 European art show and with Museum Rietberg's presentation of the exhibit Dada Afrika, in March.
These events are geared to live up to the central theme of the Dada movement: "to promote art and challenge the existing accepted definitions of art." Modern art styles that trace their roots back to Dada include the avant-garde and downtown music movements, with groups including surrealism, punk rock, Nouveau Réalisme, pop art and Fluxus.
1916 Zurich was also the home of James Joyce, who was writing Ulysses at the time, but not quite consumed by the movement. The key Dadaist figures were in fact, Romanian Tristan Tzara, German Hugo Ball and his lover Emmy Hennings, the Frenchman Jean Arp, and the Swiss Sophie Taeuber. Soon after, they recruited Raoul Hausmann, Hannah Höch, Johannes Baader, Francis Picabia, Richard Huelsenbeck, George Grosz, John Heartfield, Marcel Duchamp, André Breton, George Grosz, Man Ray, Beatrice Wood, Kurt Schwitters, Hans Richter, and Max Ernst, among others.
With such a diverse group of followers, book collectors have a great deal of Dada material to cheer about. One particular book that stands out above the rest is La première Aventure céléste (sic) de Mr. Antipyrine. Dated 28 July 1916 in the justification, the first publication of the Collection Dada and possibly the first Dada imprint is Tristan Tzara's first book, which was published when he was nineteen years old. It contains a selection of his early verse, African chants, and the first Dada manifesto accompanied by 8 original color linocuts by Marcel Janco, which contain 6 full-page in teal blue and black, and 2 in black (front cover and cul-de-lampe illustration). 510 copies of the book were published, in Zürich by Collection Dada/ Imprimerie J. Heuberger, in grey wraps with images that are 170 x 90 mm. (6 3/4 x 3 1/2 inches) in size.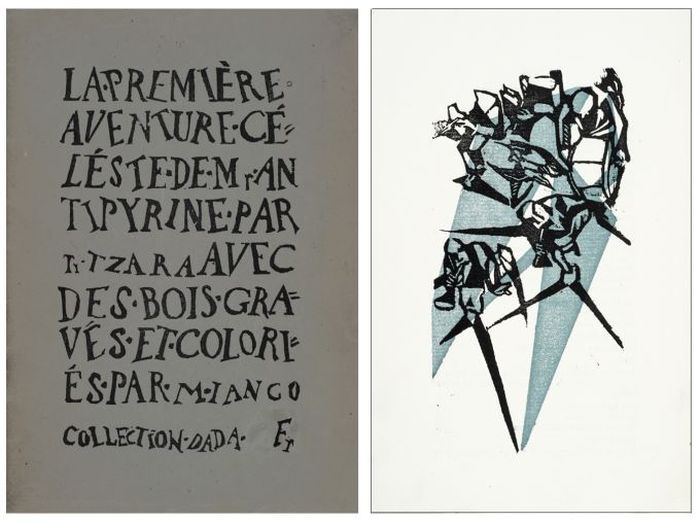 At the Importants Livres Anciens, Livres d'Artistes et Manuscrits auction event held at Christie's Paris on the 29th of April 2013, a copy of the book with a Tzara dedication, sold for €11,250. Presently, an even more attractive historic early presentation that is inscribed by both Tzara and Janco on the inner front cover is offered for sale by Ars Libri of Boston for $20,000.
Janco's art in La première Aventure céléste (sic) de Mr. Antipyrine, appears chaotic and brutal, mirroring the maelstrom of the time during World War I. Tzara, unable to pay the rent at Cabaret Voltaire, was forced to move to other venues and collaborate with Janco on this original work. The artistic force that emerged from the brutality and suffering of the surrounding realities, is the true spirit of Dada. It re-emerges again and again through artistic frenzy, a force powerful enough to obstruct reality and change the world in a movement. Dadaists' fascination with non-European art may once again be in the hands of immigrant artists.