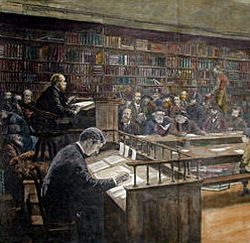 Last year's financial results from two of the largest auction houses have signaled the prospect of an art-market slowdown. Christie's reported $6.5 billion in auction sales for the year, down 4% from a year ago, while rival Sotheby's reported $6 billion last year, down 2% from a year earlier. Furthermore, this year's art auctions got off to an even slower start as bidders became more selective, auction catalogs got thinner and sellers withheld some of their offerings. It appears that skyrocketing art prices may be finally slowing down according to Wall Street Journal reporters Anna Russell and Kelly Crow.
Rare Books and Manuscripts auction sales that are also included in these figures are less impacted at this point. In fact, sales reported by the auctioneers' book departments, are so far unaffected by the slower trends. The Wall Street Journal reports that the contemporary art market started to come under pressure last spring, collectors retrenched from luxury collectibles such as wine and jewelry, to categories considered to be safer and less exuberant. Unlike the value of high end art that can fluctuate dramatically, just like stocks, rare books are less vulnerable to the effects of speculation and price spikes.
The recent shakiness in stock markets around the world, due to the depressed oil prices, global banking weaknesses, slowing economies in emerging markets, threat of terrorism and so forth, had less of an impact on the rare books marketplace. This should come as no surprise since Chinese bidders contributed to the acceleration of skyrocketing art prices experienced during the past several years. Chinese book collectors did not prove to have similar appetites as their art and wine collector counterparts. Needless to say, the rare book market should remain unaffected, if not favored, by maturing Chinese collectors who have now turned more selective and risk averting.
Auction house book and manuscript results can fluctuate year to year by the availability of a handful of trophy masterpieces that tend to soar auction bidding to record-breaking prices. For example, the original lyrics of Don McLean's "American Pie" sold for $1.2 million last April, while John James Audubon's "The Birds of America," sold by Sotheby's for $3.5 million in 2014. Such unique offerings are scarce and make up for truly successful events.
The first quarter of the year is not usually crowded with events featuring "Books and Manuscripts" at either Sotheby's or Christie's establishment. Collectors interested in getting an indication on the performance of the current year, will have to wait until the middle of the year or look outside the big houses. Sotheby's has scheduled the "Bibliothèque R. & B.L. Dada-Surréalisme" event in Paris during the 26th and 27th of April, on this special 100th year anniversary of the birth of Dada, while Christie's will kick off the year with a few events in the "Exploration & Discovery" genre, beginning with the "Ex Libris Jean R. Perrette: Important Travel, Exploration & Cartography," in New York, in April.
The largest, specialist auctioneer of works on paper, Swann auctioneers, has had a few events in 2016 already, that were well received. The auction house conducts approximately 40 sales a year, with its popular Printed Manuscript Americana which was held earlier this month. Reaching over one million dollars in a sales it included a "Psalms and Hymns and Spiritual Songs of the Old and New Testaments" 7th edition from 1693, which sold for $221,000 ($180,000 excluding buyer premium), or about 4 times its estimated value of $30,000-$40,000.
One thing for sure, is that rare, attractive books will always be well received by market forces during times when the investment sentiment is gloomy or agitated. Trying to forecast which way the market will turn during times of high volatility such as this year so far, is more speculative than science. Especially in auctions where bidding frenzy can sometimes boost the market price to new highs, the longer term historic sales data is a lot more insightful. The art market may appear to be entering a cooling off period, but good books were created for the long haul, and will be sought after by generations of collectors yet to come.