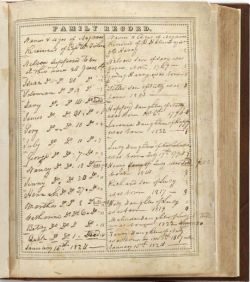 Privacy concerns have disrupted lives long before investigators attacked Apple for refusing to aid federal agents bypass a security passcode function on a terrorist's iPhone. These days, anything that happens through our lives is collected, shared, analyzed, marketed and remarketed, sometimes with our consent, and often without. New generations find it hard to imagine a world that relied on paper to conduct research, gather information and share useful knowledge. It is indeed hard to imagine that at the time of the American Civil War, when the vast majority of African Americans were enslaved, they were also stripped of their identity. A completely different form of identity theft existed then, one that allowed Negroes to be a white man's property without any legal rights.
African Americans were not included in federal census population schedules prior to 1870. Genealogists, who research slaves prior to 1870, rely on identifying the slave owner first. The personal papers of these slave-owning families which often contained information about the migrations, births, deaths, and marriages are the only information available in tracing the lives of slaves. Often times, hard to read manuscripts such as diaries, letters or plantation records are the only "small" data available. Probate records such as wills, deeds, and runaway slave advertisements that are usually more legible are quite scarce.
In smaller slaveholding establishments where no plantation records were kept, the slave owner's Bible was often used to record important genealogical information. The insertion of memorabilia in the family Bible was a common practice in the 19th century, and the frontpapers sometimes contained 2 or more pages of hand-written records of the slave births and deaths, along with those of the slave owner's own family. Such Bible discoveries suggest that recordings of slave families in this way, had been in the possession of their owners for long periods, perhaps decades1.
Even though, Bible collectors are usually interested in European editions printed prior to the 1700's and North American editions printed prior to the 1800's, the importance of Slave Bibles are very much in demand. The scarcity of these Bibles coupled with the quest to uncover genealogical ancestry, has brought about tremendous price increases. A copy of a Slave Bible sold at the Swann's auction house event, "Printed & Manuscript African Americana," in 2012, for $27,600 (with Buyer's Premium) . The price realized was well above the $5,000-7,000 estimate for "The B. H. Munday Family Slave Bible," that included a family register preceding the New Testament, containing seven pages of the births and deaths of the Munday family's slaves.
In a similar event in 2005, Swann's sold the Townsend Family Slave Bible for $10,350 (with Buyer's Premium). The estimate for this one was $3,000-4,000. It contained the inscription "Bible for the servants in the House of Samuel Townsend Oyster Bay Long Island" and listed, at the end of the volume, the dates of births and deaths of the Townsend slaves.
More recently, Antiquarian Booksellers' Association of America member, L&T Respess Books of Northampton, Massachusetts, sold a Virginia Slave Bible from the Botetourt County plantation of Judge John J. Allen, Virginia's chief magistrate, for $20,000. It contained an eight-page manuscript genealogy list in ink, with late entries in pencil, of his slaves, on a lined period blue paper stitched and sewn ahead of the New Testament.
Today, it is not hard to perceive the importance of these Civil War books. This age, more data is being manufactured by machines, servers and cell phones than by people. Today, during the first day of a baby's life, the amount of information generated through digital videos and photos posted and shared online could surpass the total amount of information contained in a library! Every moment of our lives, from birth to death, is preserved in vast cloud databases that could survive perhaps forever. As for the slaves, sometimes the best available evidence of their existence was kept inside the contents of a holy book that belonged to their master.
1Hugh Buckner Johnston Jr., "Some Bible and Other Family Records," North Carolina Genealogical Society Journal 7 (November 1981).