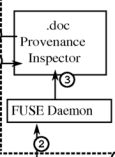 The study of the circumstances in which individual copies of books have changed ownership throughout their lifetime, also referred to as provenance, is quite important to the workings of the Rare Book Sale Monitor (RBSM). Since any tool used in measuring a commodity's price changes over periods of time is quite vulnerable to sampling errors, it is important to analyze and try to isolate the impact of all factors at play. In the world of rare books, the datafication of provenance presents one of the most difficult factors to standardize and automate. Since rare books are relatively unique commodities, any factors contributing to their heterogeneous nature should be isolated and only amalgamated when their combined impact is quantifiable.
Provenance, the chain of custody, chronology of the ownership, pedigree, or evidence of the history of the ownership of a particular book is, in many respects, important to the book trade. The following is a list of tasks where provenance records are in use:
–          Identifying the role particular titles have played in social, intellectual and literary history.
–          Determination of authenticity.
–          Books used as historical objects that provide important evidence about the way they were used and regarded in the past.
–          Cultural heritage with historical evidence of friendships and influences.
Provenance studies may include as credible sources any combination of the following accessories or book features:
–          auction records or catalogues
–          booksellers' records
–          personal or institutional book plates
–          other forms of paper laid in loosely, tipped-in letters
–          owners' signatures, inscriptions, associations, embossed ownership stamps, family mottos or coats of arms
–          marginalia notes, collation notes, annotations in the text
–          book rhymes, secret marks, shelf marks
–          unusual bindings
–          institutional library stamps
The task of identifying commonality in order to compare and contrast two volumes of the same title that have been uniquely tagged by any combination of provenance accessories is very difficult. Such effort may further be hindered by shift in taste over the long-term. For example, in last quarter's RBSM summary a ranking of the different categories of books signed by authors was exhibited.  One of the challenges in that ranking is the treatment of inscriptions Vs signatures in regards to the degree of preference placed within the book trade. In general in recent years, collectors have shown a preference of signed copies over inscribed copies unless dedicated to someone famous. Such preferential ranking has not always been considered the norm, as described in the Ken Lopez article "Signed Vs Inscribed" [1].
The approach taken in the RBSM implementation with regards to provenance is to avoid it unless shown to be complementary to homogeneity between volumes. In order to engage provenance into the equation as a formidable undertaking it is necessary to engage the physical examination of every volume included in the comparison. Such undertaking is limited by time and monetary constraints. Review of lengthy inscriptions, annotations and even tipped-in letters are only feasible when physical access is provided, and where time of human expert resource is not limited. Only recently have institutional holders of important works with the assistance of technological innovation been encouraged to start recording the provenance of their rare book collections [2]. As such resources become more readily available; provenance record keeping is expected to extend to include the study of the circumstances in which individual copies of books have changed ownership beyond simple history of the ownership.
For the RBSM the power of provenance is consumed in identifying and comparing similar if not the same rare books. For example, The Rothchild Prayerbook which was sold at auction last January by Christie's has been identified and catalogued to have been owned by the Austrian Rothschilds' back in the mid 1800's. Without such provenance record keeping in place it would have not been possible to track its previous auction sale fifteen years earlier in 1999. This is where the RBSM engine excels, in comparing the sale of identical copies with the two variables – time and price.
[1] Signed Vs Inscribed, Ken Lopez, Bookseller, Hadley MA
[2] Medival rare Book Provenance, Judith A. Overmier, Curator and Associate Professor, Bio-Medical Library, University of Minesota; Lilli Sentz, History of Medicine Librarian, Robert L. Brown History of Medicine Collection, SUNY at Buffalo.