During a recent visit to Provincetown MA, I had the opportunity to spend some time at the Julie Heller Gallery.  Provincetown's rich heritage as an art colony was quite unexplored by me, up until I took this walk through the gallery's walls filled end to end with striking treasures of artists who helped develop the town's art history. I was surprised to find out that artists such as Franz Kline, Jackson Pollock, Lee Krasner, Robert Motherwell, Helen Frankenthaler, Leo Manso, Fritz Bultman, and Hans Hofmann, among others, took part in shaping the town's cultural past.
One remarkable event was Forum 49, a 1949 summer-long series of sophisticated programs, that included forums from the basic "What Is an Artist?" to the controversial "French Art vs American Art today," with participants such as Hans Hofmann, Jackson Pollock and Leo Manso. Record crowds attended the exhibits of paintings with a focus on the avant-garde, held at a gallery at 200 Commercial Street, less than a mile down the street from Julie Heller's Gallery.
The work of Leo Manso (known for his fluid composition and rich use of color), is on display at the Julie Heller's Gallery, with some of his seductively beautiful work done in collages. Vintage pulp collectors may be more familiar with the artist's cover work on paperbacks and pulp magazines produced after the Second World War. Through his work with Simon & Schuster, he became involved with Pocket Books, for whom he produced a large number of covers during the years 1943-45.
The paperbacks of those days have so much personality. By examining them, you become quite aware that they had been the creation of human hands, rather than marketing. Artists of that generation viewed their works as an expression of themselves as artists, serving an audience of fans who shared a similar view of their work. Leo Manso's symbolic design for the Maltese Falcon, for example, was later dustjacketed with a Stanley Meltzoff illustration of a half-naked woman, in an attempt by Pocket Books' marketing to sell more books.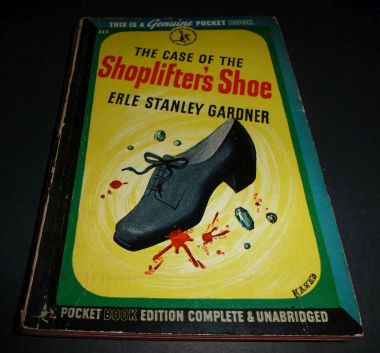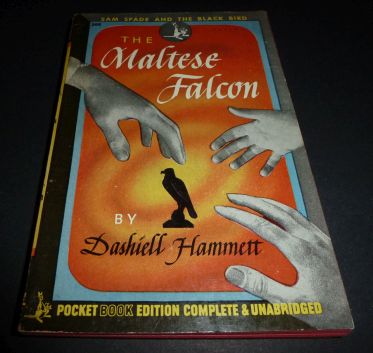 After 1947, during the sex era of the paperback, publishers produced more blatant sex covers on which beautiful women could be admired in varying stages of undress, regardless of the contents of the book. During this period, realistic illustrator Robert Stanley, was using the images he drew of his wife, model Rhonda, often having her blouse unbuttoned or her panties showing.
Leo Manso, with a group of cover designers that included calligrapher and designer George Salter, recognized the new threat presented in their field, and saw the need to establish the Book Jacket Designers Guild. The Guild, took a stand against burlap backgrounds, airbrush doilies, illustrations mutilated to fit a jacket, and cover art that was unrelated to the title, among other things. They began holding annual events to advocate the production of quality covers. After a brief period of operation, however, the number of stimulating book covers being produced had gone up and the Guild realizing defeat ceased to exist1.
Perhaps the most desirable paperback cover art promoted by the Book Jacket Designers Guild, appeared between 1942 and 1945, on cover illustrations of Pocket Books, that had the image placed within a rectangle with rounded-off corners. This design suggested that the book was a window through which the reader could look to another world. The art of Leo Manso was often surrealistic and carried symbolic objects – daggers, open books, photographed hands, and matched the Guild's protocol perfectly. Collectors of this period in graphic development are often attracted by the exuberant and colorful covers of the artist.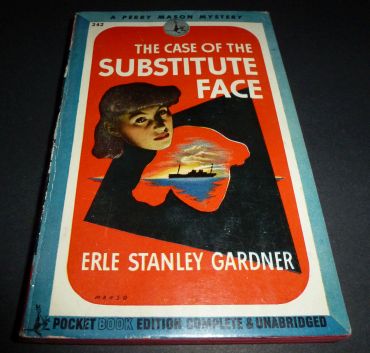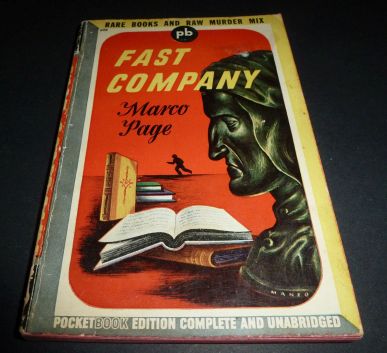 Developing a pricing methodology for vintage paperbacks is quite tricky. Appraisers do not know how much these types of books are worth, nor do they really want to deal with the hassle of managing them. Mass market forces are at play, which renders the usual gauges of supply and demand, somehow useless. There is a lack of data, such as impression quantities, trading records, (such as collections generated during auction events), or high profile sales. The paperback market offering is lacking behind the smaller quantity production of hardcovers, not only in information but also in stability.  Market availability is very unpredictable since there is a great deal of volume traded in small transactions, and new additions continually enter the market with newly made available copies.
Collectors of the gigantic paperback offering do well when they narrow their target selection down significantly. Specialization pays off at such a bigger scale. Lack of information requires a specialist collector who conducts thorough research investigations and has the dedication to learn and follow the targeted category closely. In addition, because of the fragile nature of paperbacks, fine quality is difficult to come by. Furthermore, the well-defined criteria common to the dust-jacketed hardcover collectibles, are non-existent in paperbacks, i.e. no missing, torn, price-clipped, chipped dust-jackets, etc. Condition evaluation is reduced to the pages being clean and intact, and a very, very close examination of the covers. It is a rare phenomenon by itself, to come across a cover that has not suffered some minimal wear on the edges caused by rubbing or creasing! Quite honestly, what is the difference between heavy creasing and creasing that appear in descriptions for the condition? The standard definition that declares 2 creases or more, with at least one tenth of a millimeter in width, as "heavy", is yet to be drafted.
1 Schreuders, Piet (1981).  "Paperbacks, USA. A Graphic History, 1939-1959". San Diego, CA : Blue Dolphin Enterprises Inc.