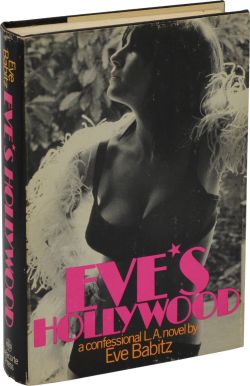 Two titles written a decade apart:  the first, in the early sixties, at the onset of the sexual revolution, which brought us increased acceptance of sex outside of traditional heterosexual, monogamous relationships; and, the other, in the early seventies, during the post-pill and pre-AIDS period. These authors' writings on the topic of sex in the single girl's life, are also set apart.  There is a bit of a divide between the life of an "adventuress" artist having an amoral good time night after night, and "a settled in a relationship Cosmo girl," who accepts that women need, or at least want men.
In 1962, at the age of 40, Helen Gurley Brown wrote her best-seller Sex and the Single Girl, which paved her way to her becoming the editor of Cosmopolitan magazine in 1965.  She went on to publish several other books which include Sex and the Office (1965), Helen Gurley Brown's Single Girl's Cookbook (1969), and Sex and the New Single Girl (1970).  Sex and the Single Girl was published in 28 countries, and stayed on the bestseller lists for over a year. The original title was Sex for the Single Girl, and included a section on contraceptive methods which was omitted from the final publication because "it sounded like [it] was advocating sex for all single girls. In 1964 the book inspired the film of the same name starring Natalie Wood. The theme of the book is well presented in the opening lines:
"I married for the first time at 37. I got the man I wanted. It could be construed as something of a miracle considering how old I was and how eligible he was…But I don't think it's a miracle that I married my husband. I think I deserved him! For 17 years I worked hard to become the kind of woman who might interest him."
A shameless devotion to pleasure for pleasure's sake was presented in 1974 by Eve Babitz at the age of 31, in her part biography, part cultural analysis and part memoir debut book, Eve's Hollywood, featuring a striking portrait of Babitz in a feather boa, shot by Annie Leibovitz. The iconic L.A. writer and 1970s "It" girl, who  prior to the book  had designed album covers for Buffalo Springfield and The Byrds, was 20 years old when Brown's  book got released, the age at which she posed naked for an iconic photo playing chess with artist Marcel Duchamp.  Eve's Hollywood, transitions between Babitz's adventures and fiction, with references to her various romantic associations with artists, musicians, writers, actors of the time and cultural scene of Los Angeles. The list of real life friends and lovers includes among others: Jim Morrison, Ed Ruscha, Paul Ruscha, Harrison Ford, Steve Martin and Walter Hopps. She took it all in and wrote about it in Eve's Hollywood:
"Cupid let go with a spear dipped in purple prose, not just an arrow, and then he drew another one, so there were two, one conventionally through my heart and the other through my head. They were both about 8 feet long and two inches thick. They were crude."
The social significance of both of these books is quite obvious.  Even though they are half of a generation apart, they have reached a level of importance in literature by having helped young women redefine their roles in our society. Unlike Sex and the Single Girl's immediate success, Eve's Hollywood did not receive much attention until it was recently re-released by Edwin Frank's imprint NYRB Classics. In fact, New York Review Books Classics has reissued the first two of Babitz's nonfiction books — Eve's Hollywood, and the essay collection, Slow Days, Fast Company. Young fans have also discovered her heady chronicles of the LA party scene of the 70s and 80s in Black Swans and her third title published in 1979 Sex and Rage.
The first editions, first printings of these books are very scarce. Signed editions are quite extinct. Sex and the Single Girl was advertised through a large-scale campaign created by Letty Cottin Pogrebin of the book's publisher, Bernard Geis Associates, and the author's husband David Brown. Even though this marketing campaign included bookstore appearances and signings, signed first printings are quite scarce. Brown passed away in 2012.
Lacking a big promotional campaign, Eve's Hollywood did not get much attention initially. Babitz has stopped writing after suffering severe burns in a freak accident in 1997.  Her agent, Erica Spellman Silverman and her younger sister, Mirandi, are working hard to elevate her ranking and preserve her legacy. She is now unwilling to appear in public events, but she is sure to present her exuberant self among the pages of rare first edition.