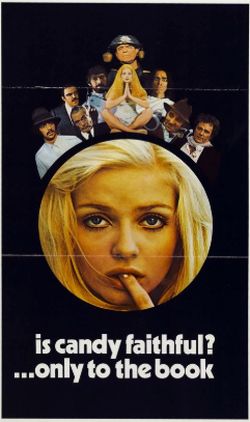 The unison of three greatly provocative and time-changing minds were responsible for the bestseller Candy, which on one hand greatly influenced popular culture of the 1960's,  and on the other, caused furor for its vulgar take on contemporary culture. The work of writer Terry Southern, poet Mason Hoffenberg and publisher Maurice Girodias, was originally pseudonymously published by the Olympia Press in Paris, in October of 1958 and was officially banned in France in May of 1959.
When the French authorities began to confiscate copies offered for sale, the book had already been reissued with one small change:  the price printed at the bottom of the rear panel, "Francs: 1.200" was overstamped in blue ink with "New Price N.F. 15".  The Brigade de Répression du Proxénétisme (BRP), a judicial police service of the French National Police, responsible for the surveillance of prostitution and the repression of immoral living, seized all available copies from the Paris bookshops. In an attempt to fool sensors and sell the remaining copies of the work,  publisher Maurice Girodas, changed the title of Candy and reissued it as Lollipop, along with reprinting the first few pages, including the dedication "to Master Boon and Master Badj",( originally Master Hadj and Master Zoon), and re-attributing an introductory quotation to Rimbaud rather than Voltaire. This worked rather well and many of the copies of this edition survived, leaving the first edition with the original title quite a scarcity, both in the first (not overstamped) issue, and the second issue. Currently, first issue copies in collectible condition are available for sale at around $5,000.
The price hike is not solely attributed to censorship, however. The book gained popularity by taking its part in the Beat Generation literary movement. While living in Paris, the three men responsible for bringing this erotic fantasy to fruition, helped develop the Beat Generation's reputation as new bohemian hedonists, who celebrated non-conformity and spontaneous creativity. Maurice Girodia, founder of the scandalous "Olympia Press," and at one time owner of his father's "Obelisk Press," was Europe's most infamous publisher who sought to publish works which were deemed shocking and unpublishable in English. In addition to Candy , he was also the first publisher of  Lolita, Naked Lunch, The Tropic of Cancer, and Marquis de Sade.  Terry Southern, the author with Texan, Irish, and Native American roots, wrote the film dialogue in the landmark films "Dr. Strangelove" and "Easy Rider". Terry's mandate was to take things as far out as they could go using his killer ear for dialogue. Last, but not least, Mason Hoffenberg was one of the smartest, hippest, most undisciplined poets extending from the Greenwich Village of New York, to the Left Bank of Paris. He hung out with Jean-Paul Sartre, Samuel Beckett, and Henry Miller, and helped a newcomer named William Burroughs publish his blockbuster: "Naked Lunch."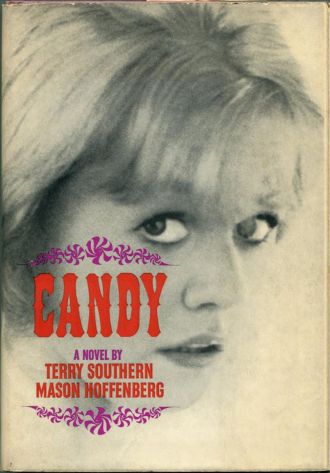 Another factor contributing to Candy's popularity is film adaptation.  In 1964, Candy, was published in North America by G.P. Putnam's Sons, in hardcover. Four years later, the story was made into an all-star film by Christian Marquand, starring Ewa Aulin, Marlon Brando, Richard Burton, Ringo Starr, Walter Matthau, James Coburn, Charles Aznavour, John Astin, John Huston, Anita Pallenberg and Enrico Maria Salerno. It quickly became a cult film, despite a disappointing introduction in the US, but with a great run throughout Europe. The DVD is also quite scarce.
Later on came favorable criticism. In 2006, Playboy Magazine listed Candy among the "25 Sexiest Novels Ever Written," and described the story as a "young heroine's picaresque travels, a kind of sexual pinball machine that lights up academia, gardeners, the medical profession, mystics and bohemians." Neil Southern, in his 2004 book, The Candy Men: The Rollicking Life and Times of the Notorious Novel Candy, tells the story of the book, the men behind it, and the furor that it caused. Terry's son got the idea for his book after reading a letter to his father from a British barrister advising how, (even in 1968),  the only way Candy could appear in England would be to undergo a "pornectomy" – eliminating about eight instances of what was considered "indecency."
Looking onward, the collectability of Candy is bound to grow. The book has been recognized as the most popular "dirty" book in Europe, during the time when the Supreme Court in the USA was struggling with the definition of sex. Paris was the only place you could print "dirty" books in English at that time, and to actually be censored in France, is quite an achievement! As psychologist Carl Jung first contended:  "what you resist not only persists, but will grow in size."