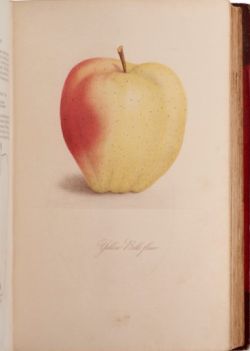 Ahh spring, with its new life, warm weather, and flowers and trees coming into leaf and blossom. In literature, it is perhaps the most popular of the four seasons. Authors, poets and artists find inspiration in the season's delightful, blooming fruit trees, native plants, edible annuals and perennials, and plethora of culinary and medicinal herbs. Research shows that in times of stress, exposure to plants yields benefits for both mental and physical health. A 2019 study of over 20,000 people, led by the University of Exeter Medical School, found that spending just two hours a week in nature significantly boosts mental health. Nature and mental health have historically been combined in literature in interesting ways, as writers and illustrators create ideas to spark imaginations and provide essential manuals to help design, plant and grow.
Poetry from Walt Whitman's Leaves of Grass, to William Wordsworth's famous poem about a daffodil easing his loneliness and bringing pleasure, celebrates the   ongoing cycle of life present in nature. Many gardening books include stunning colored plates of flora, which encourage us to appreciate the complex natural systems on our changing planet. For example, the illustration below, The Carnation (Puxley's Defiance) by Jas Andrews Delt & Zinco, in Plate 103 in the Florist, Fruitist, and Garden Miscellany (1855);  London: Chapman and Hall.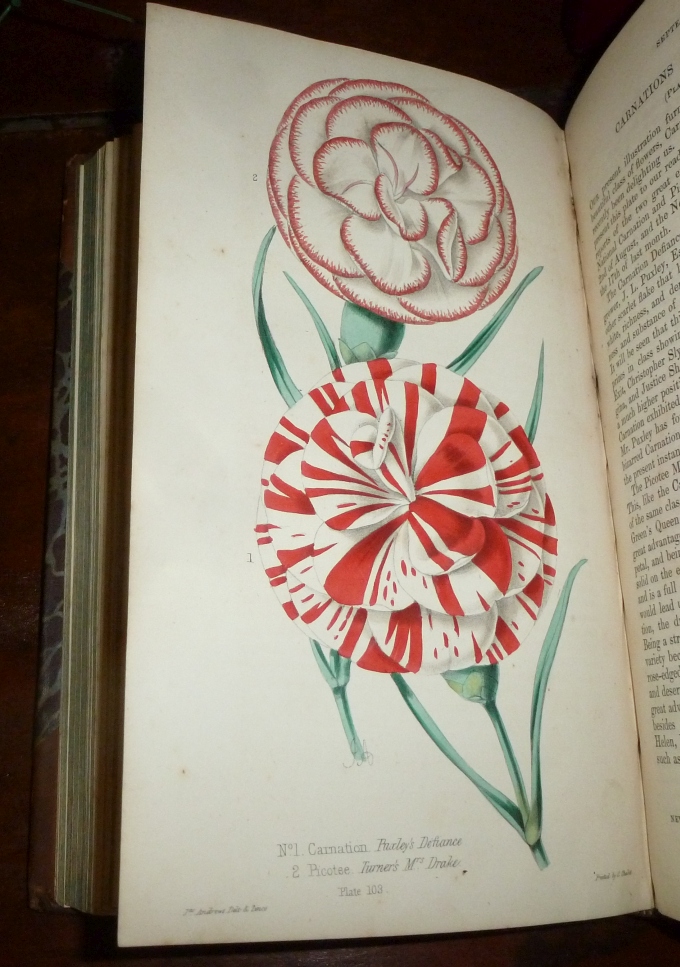 Originally published as The Florist in 1848, the name of this periodical continued as The Florist and Garden Miscellany from 1849-1850, and then, The Florist, Fruitist and Garden Miscellany from 1851-1861, and finally The Florist and Pomologist from 1862-18841. With numerous hand-colored lithographic or chromolithographic plates, (some folding), these pictorial monthly magazines are now quite scarce. Chapman and Hall uniformly bound each year's complete set with all the original hand-colored lithographs, in fine bindings with three-quarter leather, marbled boards, marbled endpapers and edges.
The Horticulturist and Journal of Rural Art and Rural Taste, published by the founder of American landscape architecture, Andrew Jackson Downing, was a monthly magazine on "horticulture, landscape gardening, rural architecture, embellishments, pomology, floriculture, and all subjects of rural life, literature, art, and taste". The magazine covered information about plants with etched and lithographed illustrations, and rural architecture ideas for building small, picturesque cottages for workmen and their families. This was not a farmer's magazine, but rather a publication for horticultural enthusiasts, typically "gentleman farmers." Downing edited the magazine until his death in 1852. After Downing died, there were several editors, including Patrick Barry (1816–1890), John Jay Smith (1798–1881), and Henry T. Williams. In 1875, the Horticulturist and Journal of Rural Art and Rural Taste merged with The Gardener's Monthly and Horticultural Advertiser, which was published from 1876 to 1888, under the title The Gardener's Monthly and Horticulturist.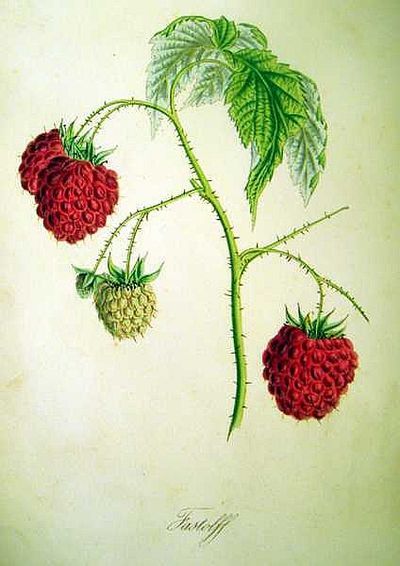 Andrew Downing, along with his brother Charles, wrote Fruits and Fruit Trees of America in 1845, which is considered to be the most important and influential book on pomology published in the United States. The color-illustrated edition published in 1847, had 70 finely colored chromolithographs, and was executed in Paris from drawings drawn in the countryside from original fruits. After Andrew's death in 1852, Charles Downing edited and added new material, and reissued The Fruits and Fruit Trees of America. Each new edition greatly enlarged the book, and thus it was considered to be one of the best publications of its kind in the United States. Charles was regarded as one of the foremost pomologists of his day because of his cultivation of grapes, pears and cherries in New York State 2.  His work inspired the formation of the New York Agricultural Experiment Station, which published a number of monographs on the fruits of New York.
Horticulture's rare books included a wide array of authors on the topics of gardening, farming, management and use of landscapes, fruit, horticulture plants and more. Intelligent stewardship of the writings of the natural world began around the middle of the last century, when a number of institutions collected and preserved works of merit in botany, horticulture and landscape design. Institutions such as the New York Botanical Garden and Kew Royal Botanic Gardens in England, are now holding significant collections.  Private collections, such as the one acquired by philanthropist and passionate gardener Rachel ("Bunny") Lambert Mellon, were gifted to universities. In the 1950's, and 60's, vast numbers of books of horticulture were absorbed into institutions, causing a serious shortage of collectibles within the genre. Collectors today have to spend a great deal of resource to add some of the most sought-after natural treasures of modern horticulture to their collections.
1 Great Flower Books, p.84; Nissen BBI 2258, 2259.
2 Times, Correspondence of the New-York (1864-10-09). "Exhibition of the Newburgh Bay Horticultural Society.; Exhibition of the Newburgh Bay Horticultural Society". The New York Times.