One of the most valuable publications, and certainly one of the rarest books, was returned to the shelves of the library in a suburb of Sydney with 122 years delay. The officials of the institution could not believe their eyes, when they got their hands on the first edition of "Insectivorous Plants', Insect eating Plants, by Charles Darwin, which was loaned by the library at Camden, on 30 January 1889.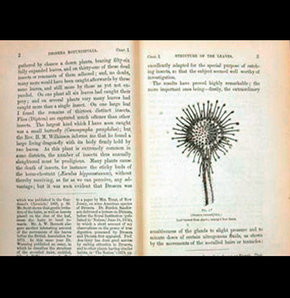 Catherine Budget Julief, director of library services, told a local newspaper that the penalty for "perennial" plus long delay would normally amount to 35,000 Australian dollars, but managers of the institution were so happy that the book was back on the shelf, that decided to leave the fine uncollected.
For 50 years this rare issue was held by a retired veterinarian, Ron Hein, who last month gave it to the University of Sydney along with many other old and rare books.  An employee of the University noticed the stamp of a lending library and returned the book promptly. The vet does not remember how the "Insectivorous Plants'' was found in his collection, but he suspects that he had given it to a colleague during the late '50s.
From now on, readers can read the "relic" of Darwin in the Library of Camden. Naturally, there is no borrowing allowed!