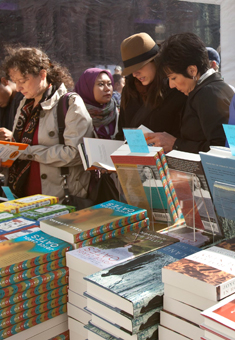 Ask any rare book dealer – "how's business" and the response may very well be – "slow but steady." Regardless of whether selling books on-line or through bricks and mortar outlet stores, the nature of the business is not very volatile with peak and valley type of activity. It is a business that can never experience explosive growth. Here is a term you will never hear – "rare book bubble."  When the nature of the business is slow and steady, it never reaches the level of acceleration at which bubbles are built upon.
Despite the revolutionary changes in the format and delivery of printing material, the nature of the rare book trade, remains unaffected.  Electronic readers have decreased the amount of books that are being published in paper form, but have not decreased the demand for collecting rare books. Collectors' interest may change from time to time. Demand for the works of a particular author or illustrator, or demand for books categorized under a certain topic or time period, may increase/decrease as a trend. Our Rare Book Sale Monitor (RBSM) is designed to report on these trends based on historical sales of activity collected.
Such behavior is largely attributed to the composition of the rare book trade industry. It is made up of a large number of proprietors. Some are bigger than others but for the most part they are sole proprietors. Occasional store closings, shop owners ceasing on-line sales, or book fairs discontinuing operation are all part of healthy adjustments. In an industry where the number of sellers is so vast, a continuous entry or exit of service offering is fundamental to healthy existence.
The buyers of rare books are as diverse and assorted as the topics which books cover. Buyer stereotype conclusions, such as the industry is dying since no book fair attendees are under the age of 40 are myths. The newer generation of book collectors is locating books on-line, worldwide, on their electronic devices. Have you ever used a Nook or a Kindle e-reader to buy a rare book on-line? You may do that someday. Granted the crowd that
attends a book fair event is distinctively different from the buyer who looks for special books on-line but the motive is the same. A rare book find at a discount price is a victory to be celebrated. Imagine turning up a copy of "Dessins sur les danses de Vaslav Nijinsky1" 1913, drawings by George Barbier, in a yard sale in Toronto just like that lucky buyer who did some time ago. He paid a mere $1 for a book worth upward of $6,000. I bet no International Standard Book Number (ISBN) scanning device or cell phone database applet could have detected that.
The product – rare books, is also very diverse. There are hardcover or soft cover of the same title, large print, first editions, later editions, first printings or first issues, book club
editions, books with or without dust-jackets, signed or inscribed, association copies and so forth. Do not forget the differentiation provided by the condition of a book. Consider two copies of the same exact book where one is in "as new" condition while the other has a few minor tears. That is a big factor which varies the price significantly.
Here we are then in an industry which has a market where no seller is large enough to dictate the market price and no buyer is capable of artificially spiking demand for the product that is nothing close to being homogeneous. It looks like this industry's market is leaning more towards a perfectly competitive market, except that its product is distinctively unique. It has a rare product which has lived through the ages and all sorts of technological advancement. It has a rare product which will sell "slow" in a "steady" market.
1 Designs on the Dances of Vaslav Nijinsky