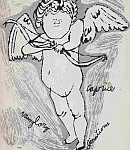 Ahh the books of Love. With Valentine's Day swiftly approaching, it seems like an appropriate time to post some of the rare books that have captured our attention and instilled in us romantic notions.  While on the topic, we will also attempt to shed some light into book collecting behavior when it comes to romantic novels, primarily in the Modern Firsts genre.   Where, when, and how are rare book collectors looking for love?
It is interesting to note that when it comes to rare books about love, book lovers are completely unaffected by all the commotion surrounding Valentine's Day. Our Rare Book Sale Monitor (RBSM) has been indicating that the genre of "romance" performed worst during the first quarter two years in a row.  While we still need to wait for the results during the current year, 2011 as well as 2010 prices remained pretty much stagnant for books of romance during their 1st quarters. In fact the most brilliant performance was during the 2nd quarter of 2010. A little springtime romance by our elite group of rare book collectors perhaps?
The next important observation is likely the most obvious – romance is everywhere, and is available in many different forms.  One may like their romance served in a poetry book, in a spicy novel, in a beautifully illustrated art or photography book, or even in an educational reference book.  Still others may prefer to go back to the basics of the Old Testament and the Song of Songs of Solomon in yet another genre, that of religion & theology.  The timeframe of publications do not constraint to a certain period either. Book collectors have bought Ann Radcliffe's gothic romance, "The Mysteries of Udolpho," from 1794 for a few thousand US dollars as well as the 1993 edition of Emily Bronte's classic romance "Wuthering Heights," that was a reissue with 15 Balthus lithographic plates. Place also does not matter. Numerous editions of Vatsyayana's "Kama Sutra," made their way into the hands of collectors despite having its roots in Hindu life.
While focusing exclusively on Romance in Modern Firsts, there is one author that stands above the rest. For thirty years Erolie Pearl Gaddis, who used both Peggy Gaddis and Peggy Dern pseudonyms, wrote traditional romances published by Arcadia House. Even though she published close to 200 romantic novels, her Arcadia first editions have proven to be difficult to find. Discovering the mass-market audience for her romances, a lot of her novels were reprinted several times.  After her death, in the 1970's, tastes in romances had changed and her books had become more obscure. She failed in becoming a "cult" author but she did manage to attract collectors' interests.  Below is a small sample of her work:

  Spring Harvest by Peggy Dern; Arcadia, 1941

The Fighting Terhunes by Peggy Dern; Arcadia, 1942

Happy Landing! by Peggy Gaddis; Arcadia, 1943

Heart's Home by Peggy Dern; Arcadia, 1946

The April Heart by Peggy Dern; Arcadia, 1959
Even though she did write "love novels," in the 1930's for William Godwin, Inc. and in the 1940's for Phoenix Press, she chose not to follow publishing trends towards more explicit content and instead fell back to what she knew how to do best: write traditional romances.  In the overcrowded field of romantic novel publishing with a fair share of authors, styles, series, heroes and heroines, the work of Erolie Pearl Gaddis was impressive. Her prolific writing for romance came during a time period when readers were more at leisure following the World War II destructions. Even though her work did become scarce it can still be found at reasonable prices. Take some time this Valentine's Day to look for it. It may turn out to be the most profitable investment you ever made in romance outside your personal romantic life.